#FreeFridayFrights
---
FREE FRIDAY FRIGHTS – A weekly free read from Mark Leslie. Alternating each week between fiction and non-fiction, an entire short story or short non-fiction true ghostly or eerie tale will be available to read here for approximately 24 hours.
In additional, Mark will be doing a live reading of the fiction or a live discussion/storytelling of the non-fiction topic – that audio/video version will remain available beyond the Friday and will be structured in the following format: Brief Intro to that day's free fright, reading/relayed tale, a short behind-the-story/behind-the-research chat, followed by a Q&A.
Bookmark this site for your weekly reading fix. Follow Mark's Author Page on Facebook for the live broadcasts.
---
Scroll to the bottom to see a list of the previous #FreeFridayFrights content
---
Friday August 17, 2018
THE GHOSTS OF THE ALBION HOTEL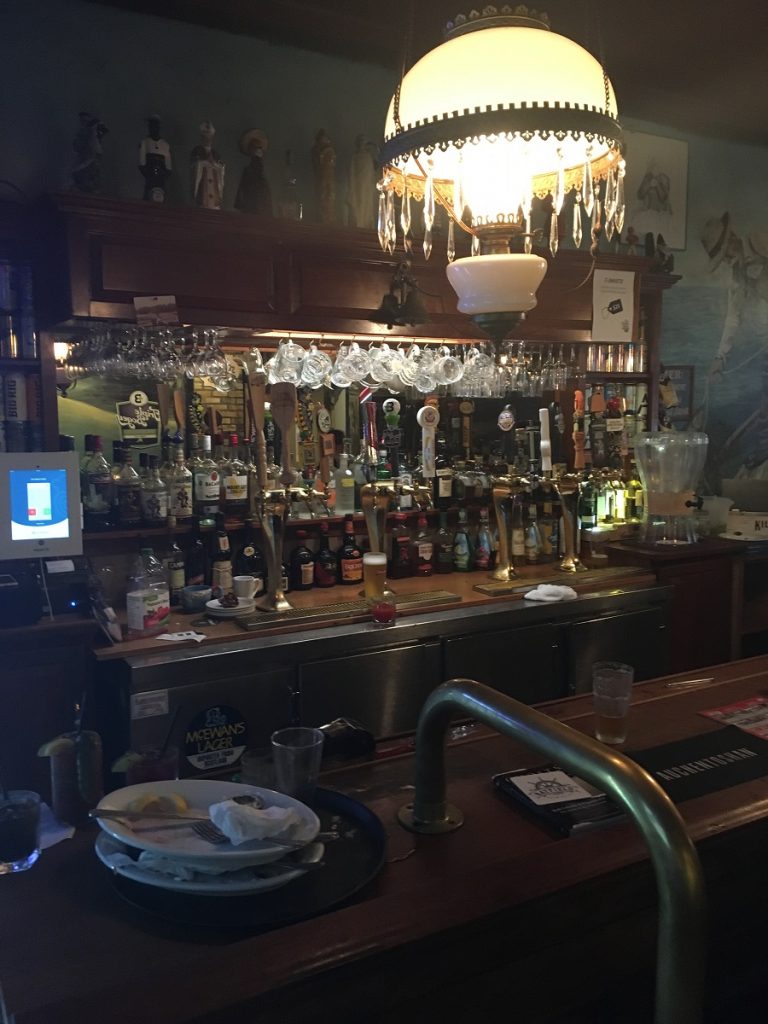 The Albion hotel is a Georgian-style colonial roadhouse in Bayfield, Ontario, not far from the shores of Lake Huron. A fully functioning bar and hotel with a handful of rooms, the Albion, which was built in the early 1840's is allegedly home to more than one lost spirit.
Harvey Elliott
Harvey Elliott was murdered on this site on November 8, 1897 by his brother.
Maria Elliott owned and ran the hotel with her two sons and two daughters. One evening, while closing up the bar, the two sons, Harvey and Fred got into a heated argument with one another while out on the verandah. Harvey, who was a roaring drunk, was being extremely belligerent and repeatedly tried to strike his brother about the face. The only thing stopping him was a friend of the two men, who was restraining him.
"Keep him away from me," Fred warned the friend, drawing a revolver and pointing it at Harvey. "Or I'll shoot him."
At just that moment, Harvey managed to break free and lunged at his brother. Fred pulled the trigger and shot Harvey in the throat.
As Harvey collapsed to the floor, Fred dropped the gun and began sobbing while helping to drag his brother's body inside.
But it was too late. The gun, shot wound proved to be almost immediately fatal.
Harvey died inside the bar of the Albion Hotel.
Allegedly, Harvey never actually left the bar either. Staff have shared stories of how the bar lights will mysteriously turn on and off all by themselves. The beer taps will also begin to pour with no human hands touching them, and glasses also inexplicably leap off of the bar rack.
When we visited the bar in August 2018, the bartender relayed two eerie stories that suggest perhaps the tales of Harvey playing pranks on the bar staff might be real. One night in the summer of 2018, as the staff were closing the bar and the phone was ringing. Even after a few minutes, it didn't stop, so one of the staff members picked it up. All they could hear on the other end was a low gasping and moan. Nothing else. Could it have been Harvey, calling for help?
The night before we had visited the bar, the bartender explained that her manager and another staff member were getting into a heated discussion as they were closing down the bar for the night. In the middle of their banter, a knife that had been sitting on the bar-top inexplicably flew across the bar. While the manager has been an avid denier of the existence of ghosts, they were unable to determine what might have caused the knife to do that.
Considering the time of night and the fact there was an argument taking place does lead the true believer to wonder if it was Harvey's ghost, getting in on the action. It is interesting that the tales about Harvey tend to be most popular at the time when the bar was closing for the night. The same time that Harvey and Fred got into their argument which led to Harvey's death.
The Farmer's Wife
One of the other ghosts regularly seen in the hotel is known as The Farmer's Wife. She is known to caress the faces of guests in the thick dark of night, to change the channels on the television and to occasionally be heard calling out for her husband John.
A tale regarding this woman was shared by the hotel chef, who, one New Year's Eve, noticed a husky woman with long dark hair sitting on the staircase at the hotel. As he was looking straight at her, she simply disappeared, as if into thin air. He couldn't explain what he saw that night.
A local Bayfield bookstore owner relayed her own tale of a time when she was young, about the age of five, and her family had been using the hotel as a place to stay while there was family visiting from out of town for the holidays. She remembered waking in the middle of the night and screaming at the top of her lungs because of the strange woman with the long dress and the white bonnet who was sitting in a chair at the end of her bed and looking at her. She said that her mother, who came in to comfort her, tried to explain that it was a pile of clothes on the chair she had seen, but she said there's no way the pile would look that high, or that upright, nor would it have the distinct facial features she had seen in the woman who had been staring at her.
There are other ghosts allegedly wandering this historic hotel. We heard that Room 4 might be the most haunted of all, with reports of disembodied footsteps, a shaking bed and the echo of eerie guitar music being reported by guests who have stayed there.
We didn't experience any of the bizarre and unexplainable events when at the hotel, except for one that truly baffles us. With such a great selection of local craft beers available at the bar, we kept seeing people ordering pitchers of Bud Light.
Heck, with the Bud Light tap releasing a great deal of foam, it suggested to us that even Harvey, the hotels most famous ghost, might have been trying to tell those patrons there were making a bad choice.
But it was no matter. They kept ordering, and drinking it.
Something we have no reasonable expectation for.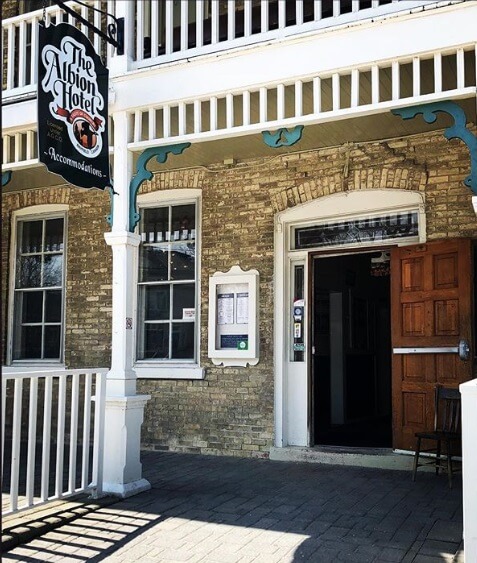 This story is part of research that will appear in the forthcoming book SPIRITS UNTAPPED: Haunted Bars & Breweries. To learn more about the "Spirits Untapped" brand, check out www.spiritsuntapped.com.

---
PREVIOUS FREE FRIDAY FRIGHTS CONTENT:
Friday April 6, 2018 – FICTION: That Old Silk Hat They Found (You can still read it for free in Snowman Shivers in via Kindle, Kobo, iBooks, Nook, etc) – You can also watch a recording of the reading.
Friday April 13, 2018 – NON-FICTION: Friday the 13th: The SUPER Superstition (Now avail as a blog post) – You can also watch a recording of the talk.
Friday April 20, 2018 – FICTION: Phantom Mitch (Mark's first published horror story) from his book One Hand Screaming – You can watch a recording of the reading, live from a haunted bar in Hamilton, Ontario (Augusta's Winking Judge)
Friday April 27, 2018 – NON-FICTION: "Jack is Back: The Ghost of Jack Kerouac at Haslam's Bookstore" – An article based on "Kerouac's Favourite Haunt", a chapter from the book Tomes of Terror: Haunted Bookstores and Libraries – You can watch a recording of this talk.
Friday May 4, 2018 – FICTION: Active Reader – a cautionary tale what happens when a bookstore loyalty program falls into the hands of a macabre collector from Mark's digital chapbook Active Reader: And Other Cautionary Tales from the World of Books – You can watch a recording of this reading.
Friday May 11, 2018– NON-FICTION: You Are Never Alone in Sudbury. A look at the UFO activity in Sudbury over the years, as documented in several chapters of the book SPOOKY SUDBURY: True Tales of the Eerie & Unexplained. You can watch a recording of this talk.
Friday May 18, 2018 – FICTION: Browsers – a book nerd finds themselves trapped in an odd little bookstore that acts a little bit like a Venus Fly Trap for book lovers. You can watch a recording of this reading.
Friday May 25, 2018 – NON-FICTION: Ghostly and eerie tales from Century Manor, the last standing building from Hamilton's Asylum for the Insane. You can watch a recording of this talk.
Friday June 1, 2018: FICTION: Distractions – A frustrated writer takes the advice from a self-help book on eliminating distractions to a darkly humorous and violent extreme. You can watch a recording of this reading.
Friday June 8, 2018: NON-FICTION: Haunted Level 2650 of Levack Mine – On a quiet weekend in the 1970's a fireguard was down on Level 2650 of Levack Mine alone when he saw something that made him swear he would never go back down there again. You can watch a recording of this.
Friday June 15, 2018: You can watching a recording of this reading: FICTION: Nervous Twitching – The bizarre sight of seeing a chicken running around with its head cut off can be disturbing. So is this micro-fiction story about a man who has never overcome seeing that in his childhood.
Friday June 22, 2018: NON-FICTION: Faceless Ghosts. Tales of faceless ghosts including a couple from Mark's book Creepy Capital.
Friday June 29, 2018: FICTION: Almost. Extremely short. A classic and popular horror tale told from a different perspective. You can watch a recording of this reading and talk.
Friday July 6, 2018: NON-FICTION: The story behind Lovers Lane in Hamilton (Ancaster), Ontario
Friday July 13, 2018: FICTION: Excerpt from opening of the novel I, DEATH.  Peter O'Mallick believes he has a death curse, because everybody he gets close to or loves dies a tragic death. Blogging about his angst seems to help. At least, until the wrong person starts reading his posts and plans on using Peter's dark power for his own nefarious purposes.  (Facebook Live Video)
Friday July 20, 2018: NON-FICTION: Ghosts of The Winking Judge (Hamilton, Ontario) (Facebook Live Video)
Friday July 27, 2018: FICTION: Vengeance is a Delicacy Best Served Cold – Martin Hecht no longer possesses a human consciousness; all he knows is he can hear a woman screaming and it hurts his brain.  (Facebook Live Video)
Friday Aug 3, 2018: NON-FICTION: Books Made Out of Human Flesh – In the history of publishing, there was a time when binding books with human flesh was an actual practice. There are still copies of these books available at particular libraries (Facebook Live Video)
Friday Aug 10, 2018: FICTION: (Recorded live from When Words Collide in Calgary, AB): Nocturnal Visions – When Carl was six years old he watched in horror as the Sandman strangled the Tooth Fairy. It wasn't the first bizarre nocturnal sight he'd witnessed, and it definitely wouldn't be his last. (Facebook Live Video)
Friday Aug 17, 2018: NON-FICTION: The Ghosts of the Albion Hotel (Facebook Live Video)