#FreeFridayFrights
---
FREE FRIDAY FRIGHTS – A monthly free read from Mark Leslie. Alternating between fiction and non-fiction, an entire short story or short non-fiction true ghostly or eerie tale will be available to read here.
In additional, Mark will be doing a live reading of the fiction or a live discussion/storytelling of the non-fiction topic – that audio/video version will remain available and will be structured in the following format: Brief Intro to that day's free fright, reading/relayed tale, a short behind-the-story/behind-the-research chat, followed by a Q&A.
Bookmark this site for your free reading fix. Follow Mark's Author Page on Facebook for the live broadcasts.
---
Scroll to the bottom to see a list of the previous #FreeFridayFrights content
---
Please note that this has been revised to a monthly update (as opposed to the weekly updates through much of 2018).
Also, feel free to download and read these free stories via the eBook retail platform of your choice: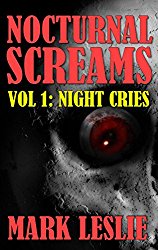 Nights Cries (Nocturnal Screams series)
Three tales that take place where darkness mingles with cries from the night
---
FICTION: Ides of March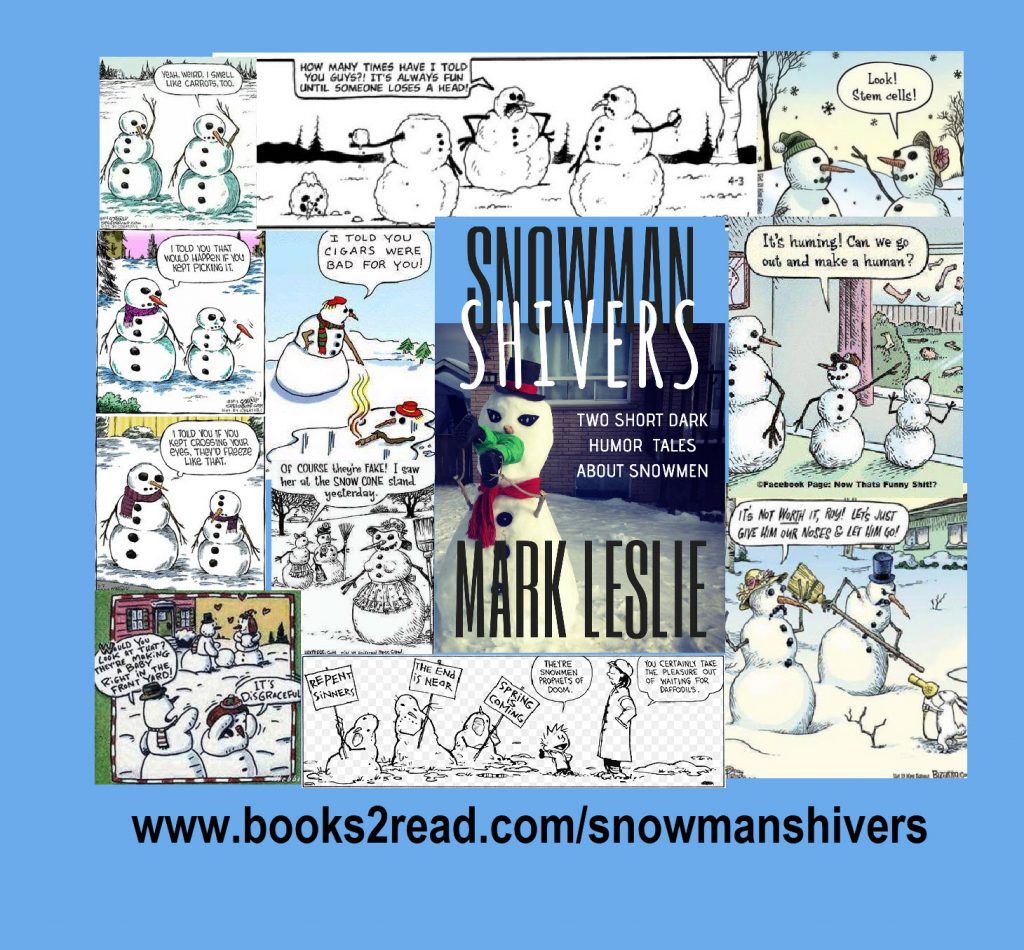 (Friday March 22, 2019)
A cruel, unavoidable empathy has overcome me today.
It had been an otherwise typical day in the middle of March. Spring was coming in like a lamb, and I had the radio deejay repeatedly reminding me of it all morning. Repetitive as his ramblings were, the fact that I was sitting at my desk in the front window and was thus witness to the weather made it all the more redundant.
But I needed the deejay's company; to keep me sane.
I'd been there at the desk near the window all morning on self-appointed sick leave. No, I wasn't ill, but I did have to fill out the tax forms for my wife and I, and if neither of us got on the ball, they'd never get done. On second thought, maybe I was sick. Why else would I volunteer for such a task?
So I sat there, playing with numbers, feeling the warm sun on my face with the easy listening radio station filtering old top 40 tunes to my mind. The temperature outside was just above zero, I could tell, for the previously icy sidewalks were now infested with puddles.
The warm temperature left the remaining snow wet and sticky. The neighbor's eight year old boy, Charlie Fung, was putting the finishing touches on what would probably be his last snowman of the year.
Everything was normal. Everything was fine. And except for the grueling hours and triplicate form headaches that lay ahead of me, it was a pleasant day.
Then this black truck, a Range Rover, I believe, appeared from around the corner of our street and Fifth Avenue and swerved dramatically, taking a long wide turn into the double driveway that we shared with the Fungs.
Two figures sat in the cab, but it was hard to see them through the glare of the sun on the windshield. I was certain that they were drunk, or at least the driver was, the way he'd maneuvered the vehicle. That upset me. I mean, it was barely noon, and already drunk drivers were on the road, endangering lives. I'd never seen this truck before and wondered what connection these yahoos might have with the Fungs, who were very conservative, peaceful and quiet neighbors.
Both figures stumbled out of the truck and confirmed my suspicions about their drunkenness. Their fashion sense wasn't much better. They were large, overweight, and dressed in similar beige full length overcoats, blue baggy ski pants and wool hats with long, floppy brims that kept their faces in shadow.
Together, they lurched toward Charlie, who was looking up at them from his recently created masterpiece. The driver was the first to reach the boy and as he approached, he grabbed Charlie by the shoulder and threw him to the snow.
I sprang from my desk and ran back through the living room, into the kitchen and down the steps to the front door. When I burst into the front yard, Charlie was sitting in the snow, crying silently, and the two men were carrying away the snowman.
When Charlie saw me, he started to wail out loud, and I rushed over to see if he was all right.
"The pushed me!" He bawled. "They pushed me! They pushed me!" He continually repeated this phrase, louder and louder. For an obscure moment I wondered if he held any relation to the deejay who'd been keeping me company all morning with his repetitive and redundant words.
Assured that Charlie wasn't hurt, just scared, I looked up to see that the two strangers were putting Charlie's snowman into the back of the truck where five other snowman sat.
I wouldn't be surprised if my jaw hit the snow as I stood there watching.
Stealing snowmen from children? What kind of mentally unbalanced people was I dealing with here? Our world was getting more and more stupid each passing day.
I walked over to the strangers. "Hey buddy," I said, putting my hand on the driver's shoulder from behind. "What's the big ide . . ."
I stopped.
His shoulder was cold and soft, and my hand mashed down into it easily.
He turned to face me, staring at me with big black eyes. Chunks of coal. And his flesh was pale white, nothing more than snow. He was sweating profusely. No, not sweating. Melting. His face was melting, and it continued to change its shape before me, the melting water running down his slushy face, the carrot nose beginning to sag.
He said something to me. Or at least he tried to, for his melting face seemed without a mouth. It came out as a mumbled warning of some kind.
Then he pushed me — hard. In the face. His hand was wet and slushy. There was an immediate bitter-cold sensation in my mouth and on my tongue — not unlike a shot of Novocain from the dentist — and I realized I must have eaten a couple of his fingers. The numbing sensation immediately dribbled down the back of my throat.
I stumbled, back, numb, dumbfounded, and fell on my ass.
I sat there in the snow, quiet and wide eyed the way Charlie had been when I first came out of the house, and watched them clamber into the cab again. The truck pulled out of the driveway, backed into a telephone post across the street and then went forward, down to the end of the street, and disappeared around the corner.
I'm not sure where these twisted snowmen came from.
But I certainly know where they're heading.
North.
Although I couldn't at first make out the mumbled word the driver had said to me, I think I've figured it out. It was a desperate, guttural moan, a warning, spoken the same rushed way that way Chicken Little must have bleated, "The sky is falling! The sky is falling!" in the classic Henny Penny tale.
The word I believe the snowman was trying to utter was: Spring.
Spring.
Nothing more than a season to us. But to a snowman, it was the end of the world.
Whoever they were, however they came to exist, Frosty and his friend were heading north and taking as many of their own kind with them as they could gather, the way that birds migrate south for the winter. They were running from the apocalyptic season of spring.
I wondered if they would make it.
Then, shortly after I escorted Charlie to his home and explained the situation to his parents — leaving out the fact that the thieves were snowmen themselves — I came back inside and took my place at the window.
Sitting here in the window again, the sunlight on my face, sweat running down my brow, I begin to wonder something else.
Spring is coming in like a lamb, a soft mild day. But ever since I swallowed the snow flesh of the animate snowman, the numbness has continued to spread throughout my insides. And I've become more and more uncomfortable in the heat. I keep checking the temperature because it feels like one hundred degrees — but it's really only plus three.
I look down at my sweat, at the pools of thick fleshy sweat that has dripped onto my desk, onto the tax forms.
And I wonder if I would be able to find them again.
I wonder if they'd take me with them.
The taxes, Charlie, my wife, none of them seem important to me now.
I'd just like to head north, find a deserted field, and spend the rest of my days standing there, basking in the freezing arctic temperatures.
END
Click here to see Mark read and talk about the story via Facebook Live Video
"Ides of March" was originally published in One Hand Screaming in October 2004. It was reprinted in the eBook Snowman Shivers: Two Dark Humor Tales About Snowmen, which is available to read for free on most eBook platforms.
---
PREVIOUS FREE FRIDAY FRIGHTS CONTENT:
Friday April 6, 2018 – FICTION: That Old Silk Hat They Found (You can still read it for free in Snowman Shivers in via Kindle, Kobo, iBooks, Nook, etc) – You can also watch a recording of the reading.
Friday April 13, 2018 – NON-FICTION: Friday the 13th: The SUPER Superstition (Now avail as a blog post) – You can also watch a recording of the talk.
Friday April 20, 2018 – FICTION: Phantom Mitch (Mark's first published horror story) from his book One Hand Screaming – You can watch a recording of the reading, live from a haunted bar in Hamilton, Ontario (Augusta's Winking Judge)
Friday April 27, 2018 – NON-FICTION: "Jack is Back: The Ghost of Jack Kerouac at Haslam's Bookstore" – An article based on "Kerouac's Favourite Haunt", a chapter from the book Tomes of Terror: Haunted Bookstores and Libraries – You can watch a recording of this talk.
Friday May 4, 2018 – FICTION: Active Reader – a cautionary tale what happens when a bookstore loyalty program falls into the hands of a macabre collector from Mark's digital chapbook Active Reader: And Other Cautionary Tales from the World of Books – You can watch a recording of this reading.
Friday May 11, 2018– NON-FICTION: You Are Never Alone in Sudbury. A look at the UFO activity in Sudbury over the years, as documented in several chapters of the book SPOOKY SUDBURY: True Tales of the Eerie & Unexplained. You can watch a recording of this talk.
Friday May 18, 2018 – FICTION: Browsers – a book nerd finds themselves trapped in an odd little bookstore that acts a little bit like a Venus Fly Trap for book lovers. You can watch a recording of this reading.
Friday May 25, 2018 – NON-FICTION: Ghostly and eerie tales from Century Manor, the last standing building from Hamilton's Asylum for the Insane. You can watch a recording of this talk.
Friday June 1, 2018: FICTION: Distractions – A frustrated writer takes the advice from a self-help book on eliminating distractions to a darkly humorous and violent extreme. You can watch a recording of this reading.
Friday June 8, 2018: NON-FICTION: Haunted Level 2650 of Levack Mine – On a quiet weekend in the 1970's a fireguard was down on Level 2650 of Levack Mine alone when he saw something that made him swear he would never go back down there again. You can watch a recording of this.
Friday June 15, 2018: You can watching a recording of this reading: FICTION: Nervous Twitching – The bizarre sight of seeing a chicken running around with its head cut off can be disturbing. So is this micro-fiction story about a man who has never overcome seeing that in his childhood.
Friday June 22, 2018: NON-FICTION: Faceless Ghosts. Tales of faceless ghosts including a couple from Mark's book Creepy Capital.
Friday June 29, 2018: FICTION: Almost. Extremely short. A classic and popular horror tale told from a different perspective. You can watch a recording of this reading and talk.
Friday July 6, 2018: NON-FICTION: The story behind Lovers Lane in Hamilton (Ancaster), Ontario
Friday July 13, 2018: FICTION: Excerpt from opening of the novel I, DEATH. Peter O'Mallick believes he has a death curse, because everybody he gets close to or loves dies a tragic death. Blogging about his angst seems to help. At least, until the wrong person starts reading his posts and plans on using Peter's dark power for his own nefarious purposes. (Facebook Live Video)
Friday July 20, 2018: NON-FICTION: Ghosts of The Winking Judge (Hamilton, Ontario) (Facebook Live Video)
Friday July 27, 2018: FICTION: Vengeance is a Delicacy Best Served Cold – Martin Hecht no longer possesses a human consciousness; all he knows is he can hear a woman screaming and it hurts his brain. (Facebook Live Video)
Friday Aug 3, 2018: NON-FICTION: Books Made Out of Human Flesh – In the history of publishing, there was a time when binding books with human flesh was an actual practice. There are still copies of these books available at particular libraries (Facebook Live Video)
Friday Aug 10, 2018: FICTION: (Recorded live from When Words Collide in Calgary, AB): Nocturnal Visions – When Carl was six years old he watched in horror as the Sandman strangled the Tooth Fairy. It wasn't the first bizarre nocturnal sight he'd witnessed, and it definitely wouldn't be his last. (Facebook Live Video)
Friday Aug 17, 2018: NON-FICTION: The Ghosts of the Albion Hotel – The Albion hotel is a Georgian-style colonial roadhouse in Bayfield, Ontario, not far from the shores of Lake Huron. A fully functioning bar and hotel with a handful of rooms, the Albion, which was built in the early 1840's is allegedly home to more than one lost spirit. (Facebook Live Video) – YouTube Video
Friday Aug 24, 2018: FICTION / (DARK POETRY) – 3 Dark poems: "The Sound of One Man Screaming," "Frost After Midnight," and "With Apologies to E.P." (Facebook Live Video) – YouTube Video
Friday Aug 31, 2018: NON-FICTION: The Bookstore Portal – Bob's Beach Books, Lincoln City, OR – An eerie encounter the manager had with a couple who walked into the store and then disappeared into thin air. (Video from 2017 – Mark in front of Bob's Beach Books) – Facebook Live Video
Friday Sept 7, 2018: FICTION: The Pizza Man – A group of students keep getting pizza deliveries that they never ordered. Is it a strange prank, or is there something more to the mysterious man who keeps showing up at their door?
Friday Sept 14, 2018: NON-FICTION: Ghosts of the Old Ottawa Carleton Jail – Have you ever slept in a prison by choice? How about a haunted prison? There is a hostel in the Nation's Capital that was originally home to the Carleton County Jail, a maximum security institution with more than its fair share of ghostly tales. Facebook Video – YouTube Video
Friday Sept 21, 2018: FICTION: The Bogeyman Can – "Who can take a garbage bag? (Garbage Bag) And stuff it full of kids (Stuff it full of kids). Who can murder anyone he wants to and get away with it? (The Bogeyman) The Bogeyman can because he stays right out of sight until the lights go down!" (Facebook Live Video)
Friday Sept 27, 2018 NON-FICTION: The Ghosts of Haslam's Bookstore – a return to St Pete Florida to visit the bookstore that is allegedly haunted by Jack Kerouac, and learning tales about another restless spirit that might also lurk there. (YouTube Video – shot at Haslam's in Sept 2018)
Friday Oct 5, 2018: FICTION: But Once A Year – Once a year, on All Hallow's Eve, the dead can rise from their graves and walk around and are forbidden from leaving the graveyard. But what happens when one corpse sneaks away and tries to escape? (Facebook Live Video of a reading of the story)
Friday Oct 12, 2018: NON-FICTION: The Mystery of the Ghost Boy at Indigo Montreal – An eerie experience that Mark had related to the book signing at the downtown Indigo. A creepy ghost boy image appeared in a mirror in more than one of the photos taken of the authors that night. (The Video this week is a collection of clips about ghostly occurences from Montreal)
Friday Oct 19, 2018: FICTION: Treats – Old man Percy sits in the dark in his house on Halloween ignoring the knocks from the neighborhood children as well as their taunting chants about the perverted recluse who keeps the body of his dead wife in the bedroom upstairs. (Facebook Live Video of reading)
Friday Oct 26, 2018: NON-FICTION: Halloween / All Hallows Eve – a look at the origin of and some trivia associated with this most awesome celebration. (Watch the video)
Friday Nov 2, 2018: FICTION: The Shadow Men – The bogeymen of the New Hampshire wilderness known as "The Shadow Men" lurk in the shadows of the trees and only come out at night in order to lure and trick children into their clutches. (Facebook Live Video) – (YouTube Video)

Friday Nov 9, 2018: NON-FICTION: Haunting Hotels – Mark talks about how often he haunts hotels as well as a single eerie hotel experience he had a few years ago. (Facebook Live Video) (YouTube Video)
Friday Nov 16, 2018: FICTION: Three Short Poems. Mark reads "There Is A Low and Fearful Cry," "Blood Dreams," and "Wailin' Jenny" – two dark and moody poems and one dark humor poem. (Facebook Live Video)
Friday Nov 23, 2018: NON-FICTION: "That's How Houdini Died!" A look at the details that led to the common believe that Harry Houdini died due to a series of blows to the stomach. (YouTube Video)
Friday, Nov 30, 2018: FICTION: "Little Things" – Strange little creatures appear in the middle of the night, but Daniel is the only one who can see them. His wife, Joy, becomes distraught at the bizarre way her husband is acting, but, more horrifying is what the tiny little things are doing to her body. (Facebook Live Video of the reading)
Friday, Dec 7, 2018: NON-FICTION: "Old Town Pizza & Brewing" – The ghost of Nina, a murdered prostitute who allegedly haunts the back area of the restaurant and brewery near the old elevator shaft where she was shoved down when the building was a hotel.
[The format has been updated to a monthly rather than a weekly schedule]

Friday, Jan 18, 2019: FICTION: "I, Death" – The original short story that was eventually adapted into the novel of the same name. Peter O'Mallick has a death curse. Everyone he knows and loves seems to be dying because of this curse. How can he stop it? (FacebookLive Reading)
Friday, Feb 22, 2019: NON-FICTION: "A Woman Possessed" – Ponoko Hospital, Calgary. Based on a chapter from the book HAUNTED HOSPITALS. (Facebook Live Reading)
Friday, March 22, 2019: FICTION: "Ides of March" – Taxes are due soon. But what has my attention right now is a pair of odd strangers who show up to kidnap a snowmen. (Facebook Live Video)