#FreeFridayFrights
---
FREE FRIDAY FRIGHTS – A weekly free read from Mark Leslie. Alternating each week between fiction and non-fiction, an entire short story or short non-fiction true ghostly or eerie tale will be available to read here for approximately 24 hours.
In additional, Mark will be doing a live reading of the fiction or a live discussion/storytelling of the non-fiction topic – that audio/video version will remain available beyond the Friday and will be structured in the following format: Brief Intro to that day's free fright, reading/relayed tale, a short behind-the-story/behind-the-research chat, followed by a Q&A.
Bookmark this site for your weekly reading fix. Follow Mark's Author Page on Facebook for the live broadcasts.
---
Scroll to the bottom to see a list of the previous #FreeFridayFrights content
---
Ghosts of Augusta's The Winking Judge in Hamilton, ON

Watch Facebook Live Video of Mark chatting about this on his Facebook Author Page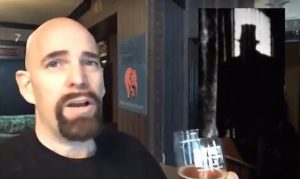 WINKING GHOSTS

A pub located at 25 Augusta Street in Hamilton specializes in microbrewed beer. With at least twenty-two taps, it offers one of the broadest selections, from a standard core selection to a featured series of rotating brands and styles of beer. They have, over the years, served nearly 1000 different beers produced by brewmasters from Ontario, Quebec, Alberta as well as European and U.S. imports, including some collaborative Ontario and New York breweries that were featured during an early 2018 summer Canadian / America brewfestival at the pub. (The link leads to an article I wrote about that on the Spirits Untapped blog – it also includes a short video of chats with beer folks)
Since first writing about this pub years ago, I have become one of the regulars at the bar. One might say that I regularly haunt the place. But I do so because of the fun people, the great beers and the kind of "unfancy" atmosphere that I enjoy in a pub.
So, the beer, the people and the atmosphere held me; but what are some of the stories that first drew me there in the first place. Therein lie the ghosts.
The Judge, as the bar is affectionately called, is home to numerous ghosts, but the two most popular ones people regularly see are the cat and a man in a dark suit and a top hat who is referred to as "The Judge."  He allegedly appears hovering outside the second floor men's washroom window, or heard walking about on the second floor when the bar is closed for the night and the only people there are staff doing a final cleanup.
People have reported seeing glimpses of him sitting in one of the seats in the front window when that area of the bar is empty, and staff have reported odd feelings of not being alone when they know there is no other person in the bar. The old man in the top hot, which suggests he is from a time long past, never comes with any sense of malice or harm. He is just there, lingering, perhaps as attracted to the atmosphere of the place as me.
One of my favourite tales of the judge include the owner Mary's daughter, when she was younger, playing alone upstairs one afternoon before the pub opened while her mother was working on the main floor kitchen, getting the bar set up for the day. When she heard her daughter speaking with someone, she went upstairs to ask her who she was speaking to.
"The nice man in the dark hat," her daughter said with a big smile.
That sent a chill down Mary's spine.
Others have reported that they thought they could feel a cat brushing up against their legs, the way a cat does when it wants some attention. However, whenever the patrons experiencing this reach down to pet what they think might be the "house cat" of the place, there's never anything there.
Other eerie occurences at the bar include inexplicable wisps of smoke floating up the stairs to the second floor (and the smoking by-laws in Hamilton and Ontario have been such that, for the past several years, smoking isn't even allowed on the outside patios)
In all the years that I have been hanging out, the only disturbing thing that I have seen was people coming in to the bar to order a Coors Light or a Budweiser. And I have been given personal tours of the closed to the public third floor and attic area as well as the cellar where the beer kegs are stored. And, while those locals, and even the second floor can be a bit eerie when you're there alone, I can't say I've ever seen anything that would suggest a supernatural presence.
As it is, I'm more than happy to be one of the living that haunts this pub, and to continue to enjoy the great beers that they bring in, the delightful conversation with the regulars and visitors to the bar. That, for me, is just enough. Especially when, every once in a while, after the right number of drinks, one of the regulars is willing to talk about a ghostly experience they had, previously, been too reserved or nervous to talk about.
– As originally written about in the chapter "Haunted Pubs" in the book HAUNTED HAMILTON

---
PREVIOUS FREE FRIDAY FRIGHTS CONTENT:
Friday April 6, 2018 – FICTION: That Old Silk Hat They Found (You can still read it for free in Snowman Shivers in via Kindle, Kobo, iBooks, Nook, etc) – You can also watch a recording of the reading.
Friday April 13, 2018 – NON-FICTION: Friday the 13th: The SUPER Superstition (Now avail as a blog post) – You can also watch a recording of the talk.
Friday April 20, 2018 – FICTION: Phantom Mitch (Mark's first published horror story) from his book One Hand Screaming – You can watch a recording of the reading, live from a haunted bar in Hamilton, Ontario (Augusta's Winking Judge)
Friday April 27, 2018 – NON-FICTION: "Jack is Back: The Ghost of Jack Kerouac at Haslam's Bookstore" – An article based on "Kerouac's Favourite Haunt", a chapter from the book Tomes of Terror: Haunted Bookstores and Libraries – You can watch a recording of this talk.
Friday May 4, 2018 – FICTION: Active Reader – a cautionary tale what happens when a bookstore loyalty program falls into the hands of a macabre collector from Mark's digital chapbook Active Reader: And Other Cautionary Tales from the World of Books – You can watch a recording of this reading.
Friday May 11, 2018– NON-FICTION: You Are Never Alone in Sudbury. A look at the UFO activity in Sudbury over the years, as documented in several chapters of the book SPOOKY SUDBURY: True Tales of the Eerie & Unexplained. You can watch a recording of this talk.
Friday May 18, 2018 – FICTION: Browsers – a book nerd finds themselves trapped in an odd little bookstore that acts a little bit like a Venus Fly Trap for book lovers. You can watch a recording of this reading.
Friday May 25, 2018 – NON-FICTION: Ghostly and eerie tales from Century Manor, the last standing building from Hamilton's Asylum for the Insane. You can watch a recording of this talk.
Friday June 1, 2018: FICTION: Distractions – A frustrated writer takes the advice from a self-help book on eliminating distractions to a darkly humorous and violent extreme. You can watch a recording of this reading.
Friday June 8, 2018: NON-FICTION: Haunted Level 2650 of Levack Mine – On a quiet weekend in the 1970's a fireguard was down on Level 2650 of Levack Mine alone when he saw something that made him swear he would never go back down there again. You can watch a recording of this.
Friday June 15, 2018: You can watching a recording of this reading: FICTION: Nervous Twitching – The bizarre sight of seeing a chicken running around with its head cut off can be disturbing. So is this micro-fiction story about a man who has never overcome seeing that in his childhood.
Friday June 22, 2018: NON-FICTION: Faceless Ghosts. Tales of faceless ghosts including a couple from Mark's book Creepy Capital.
Friday June 29, 2018: FICTION: Almost. Extremely short. A classic and popular horror tale told from a different perspective. You can watch a recording of this reading and talk.
Friday July 6, 2018: NON-FICTION: The story behind Lovers Lane in Hamilton (Ancaster), Ontario
Friday July 13, 2018: FICTION: Excerpt from opening of the novel I, DEATH.  (Facebook Live Video)
Friday July 20, 2018: NON-FICTION: Ghosts of The Winking Judge (Hamilton, Ontario)