#FreeFridayFrights
---
FREE FRIDAY FRIGHTS – A weekly free read from Mark Leslie. Alternating each week between fiction and non-fiction, an entire short story or short non-fiction true ghostly or eerie tale will be available to read here for approximately 24 hours.
In additional, Mark will be doing a live reading of the fiction or a live discussion/storytelling of the non-fiction topic – that audio/video version will remain available beyond the Friday and will be structured in the following format: Brief Intro to that day's free fright, reading/relayed tale, a short behind-the-story/behind-the-research chat, followed by a Q&A.
Bookmark this site for your weekly reading fix. Follow Mark's Author Page on Facebook for the live broadcasts.
---
Scroll to the bottom to see a list of the previous #FreeFridayFrights content
---
Friday Sept 21, 2018
FICTION:  The Bogeyman Can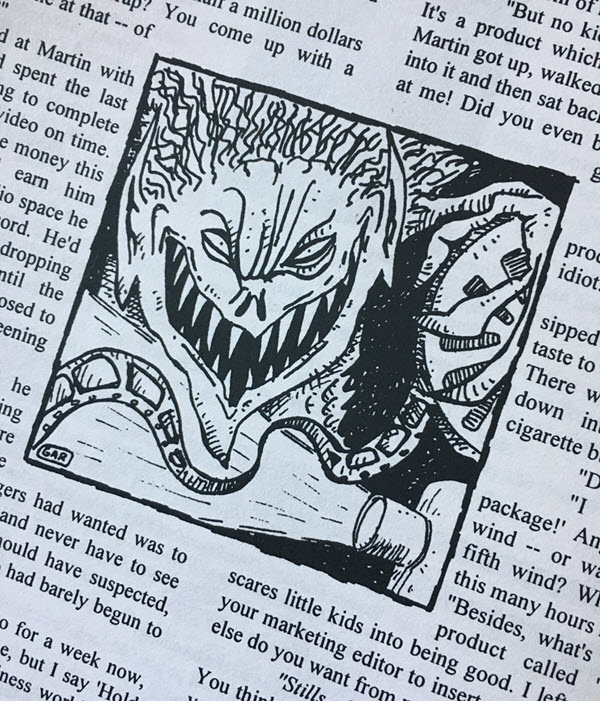 "Who can take a garbage bag?
– (garbage bag) –
And stuff it full of kids?
– (stuff it full of kids) –
Who can murder anyone he wants to?
And get away with it?
 (The Bogeyman)
The Bogeyman can
Cause he stays right out of sight
Until the lights go down . . ."
---
"OKAY, HOLD it! Stop the film! Lights!"
"What? What's wrong now, Martin?"
The lights in the mini theatre came on.
Martin massaged the top of his shiny, round head, sucking the last half inch left of his cigarette. He sighed as he flicked the butt into his companion's coffee where it fizzled, unnoticed by Rogers.
"I give you two extra weeks and half a million dollars and you come up with this crap? You come up with a mockery — and a poor one at that — of the Candyman song?"
Rogers stared at Martin with thin red eyes. He had spent the last seventy hours attempting to complete the "Bogeyman" music video on time. And he'd just made it. The money this lousy assignment would earn him would help pay for the studio space he needed to cut his first record. He'd planned on going home and dropping into a very deep sleep until the secretary told him he was supposed to stay with Mr. Martin for the screening of the video.
Great.
If there was one thing he didn't feel like doing, it was sitting beside the old fart in the mini theatre and listening to the whistling noise he made while he breathed. All that Rogers had wanted was to drop off the film, pick up his cheque and never have to see Martin's ugly mug again. But, as he should have suspected, Martin was not easily satisfied. The video had barely begun to run when Martin screamed for it to stop.
"This product has been ready to go for a week now, but we didn't release it. They tell me it's time, but I say 'Hold on fellows: I've got the best man in the business working on our promotional video. He's young and new, but I know he'll deliver. Give him another week. Rogers won't let us down!' Well, Rogers, you've made a lying bastard out of me!" Martin's dome began blushing as he ranted.
"Look, man!" Rogers paused, trying to pull his words together. "It's a rock video. You barely let the video begin. If you'd give it half a chance . . ."
"Half a chance? Rogers, this song makes a laughing stock out of the 'Bogeyman' line. It's supposed to be a serious product with advertisements aimed at the parents. Your stupid lyrics belittle the importance — the current social need — of the product. They make fun of it. And you aimed the damn thing at the kids."
"It's a kids toy." Rogers was barely aware of the words he was uttering. He had enough trouble keeping his eyes open, never mind trying to keep up with the blithering bald man stewing in front of him.
"But no kid in their right mind would buy the thing. It's a product which parents will be buying for their kids." Martin got up, walked over to the nearest wall, slammed his fist into it and then sat back down again. "Rogers, look at me. Look at me! Did you even bother to read the marketing package I gave to you?"
"Package?"
"The description of our product and of our target market, you idiot."
Rogers leaned forward and sipped his coffee. There was a weird taste to it. It was cold. No, that wasn't it. There was something else. He looked down into his cup at the floating cigarette butt.
"Did you read the package?"
"I never got the bloody package!' Anger gave him his second wind — or was it his third, fourth or fifth wind? Who knew? Being awake this many hours made it hard to think. "Besides, what's there to know? It's a product called 'The Bogeyman.' It scares little kids into being good. I left spaces in the video for your marketing editor to insert stills of the thing. What the hell else do you want from me?"
"Stills of the thing? Stills of the thing? You stupid fool. You think by adding still photos of our 'Bogeyman' overtop of your pathetic, childish jingle, anyone would ever buy our product? Do you even understand how much time and resources you've wasted?"
Martin walked over to the wall where he had slammed his fist. He signaled the technician in the projection booth. The opposite wall opened up with an annoying squeal.
Rogers rubbed his eyes and tried to look into the darkened corridor beyond the wall, but he couldn't see in. Dammit, something stunk to high hell. Was it him? He sniffed at his armpits.
The echoes of a soft moving — slithering — came from the corridor. A mist rolled out and settled across the floor of the mini theatre. It was the mist that stunk. Rogers felt a chill and sipped the coffee once more. Oh shit! He'd forgotten the stupid cigarette butt.
"What the hell's goin' on, man?"
The dark silhouette of a tall skinny shape appeared in the entrance of the corridor. Rogers couldn't make out any features through the mist which curled around the figure like a dark robe.
Martin waved a boney finger in Rogers' direction, shaking his head. "He's been a bad boy. A very bad boy." He spun on his heels and headed for the door.
"Martin. Where are you going?"
"To get another song writer. A good one." Martin called to the production booth as he stepped out of the room, quickly closing the door behind him. "Lights!" The slamming of the door was instantly followed by the sound of the door being locked.
The lights dipped, plunging the room into darkness. Even the exit signs at the top of the house and the work lights from the projection booth went out. The foul smell intensified with the encroaching darkness. Rogers heard the slithering sound again. It too, was louder, closer.
Through the door he thought he could hear Martin's voice, somewhat calmer; somewhat more satisfied. "You know, some of those lyrics you wrote might be useful after all: The Bogeyman can, cause he stays right out of sight until the lights go down."
A noise very much like a cross between a screech and a growl echoed through the darkness as something slimy and large picked Rogers up by the top of his head.
The howling groan of the creature reminded him of Martin's laughter.
"The Bogeyman Can" was originally published in imelod magazine in 1999. It was reprinted in 2004 in the short story collection One Hand Screaming (Stark Publishing)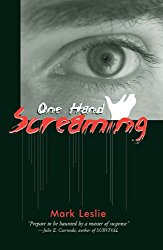 ---
PREVIOUS FREE FRIDAY FRIGHTS CONTENT:
Friday April 6, 2018 – FICTION: That Old Silk Hat They Found (You can still read it for free in Snowman Shivers in via Kindle, Kobo, iBooks, Nook, etc) – You can also watch a recording of the reading.
Friday April 13, 2018 – NON-FICTION: Friday the 13th: The SUPER Superstition (Now avail as a blog post) – You can also watch a recording of the talk.
Friday April 20, 2018 – FICTION: Phantom Mitch (Mark's first published horror story) from his book One Hand Screaming – You can watch a recording of the reading, live from a haunted bar in Hamilton, Ontario (Augusta's Winking Judge)
Friday April 27, 2018 – NON-FICTION: "Jack is Back: The Ghost of Jack Kerouac at Haslam's Bookstore" – An article based on "Kerouac's Favourite Haunt", a chapter from the book Tomes of Terror: Haunted Bookstores and Libraries – You can watch a recording of this talk.
Friday May 4, 2018 – FICTION: Active Reader – a cautionary tale what happens when a bookstore loyalty program falls into the hands of a macabre collector from Mark's digital chapbook Active Reader: And Other Cautionary Tales from the World of Books – You can watch a recording of this reading.
Friday May 11, 2018– NON-FICTION: You Are Never Alone in Sudbury. A look at the UFO activity in Sudbury over the years, as documented in several chapters of the book SPOOKY SUDBURY: True Tales of the Eerie & Unexplained. You can watch a recording of this talk.
Friday May 18, 2018 – FICTION: Browsers – a book nerd finds themselves trapped in an odd little bookstore that acts a little bit like a Venus Fly Trap for book lovers. You can watch a recording of this reading.
Friday May 25, 2018 – NON-FICTION: Ghostly and eerie tales from Century Manor, the last standing building from Hamilton's Asylum for the Insane. You can watch a recording of this talk.
Friday June 1, 2018: FICTION: Distractions – A frustrated writer takes the advice from a self-help book on eliminating distractions to a darkly humorous and violent extreme. You can watch a recording of this reading.
Friday June 8, 2018: NON-FICTION: Haunted Level 2650 of Levack Mine – On a quiet weekend in the 1970's a fireguard was down on Level 2650 of Levack Mine alone when he saw something that made him swear he would never go back down there again. You can watch a recording of this.
Friday June 15, 2018: You can watching a recording of this reading: FICTION: Nervous Twitching – The bizarre sight of seeing a chicken running around with its head cut off can be disturbing. So is this micro-fiction story about a man who has never overcome seeing that in his childhood.
Friday June 22, 2018: NON-FICTION: Faceless Ghosts. Tales of faceless ghosts including a couple from Mark's book Creepy Capital.
Friday June 29, 2018: FICTION: Almost. Extremely short. A classic and popular horror tale told from a different perspective. You can watch a recording of this reading and talk.
Friday July 6, 2018: NON-FICTION: The story behind Lovers Lane in Hamilton (Ancaster), Ontario
Friday July 13, 2018: FICTION: Excerpt from opening of the novel I, DEATH.  Peter O'Mallick believes he has a death curse, because everybody he gets close to or loves dies a tragic death. Blogging about his angst seems to help. At least, until the wrong person starts reading his posts and plans on using Peter's dark power for his own nefarious purposes.  (Facebook Live Video)
Friday July 20, 2018: NON-FICTION: Ghosts of The Winking Judge (Hamilton, Ontario) (Facebook Live Video)
Friday July 27, 2018: FICTION: Vengeance is a Delicacy Best Served Cold – Martin Hecht no longer possesses a human consciousness; all he knows is he can hear a woman screaming and it hurts his brain.  (Facebook Live Video)
Friday Aug 3, 2018: NON-FICTION: Books Made Out of Human Flesh – In the history of publishing, there was a time when binding books with human flesh was an actual practice. There are still copies of these books available at particular libraries (Facebook Live Video)
Friday Aug 10, 2018: FICTION: (Recorded live from When Words Collide in Calgary, AB): Nocturnal Visions – When Carl was six years old he watched in horror as the Sandman strangled the Tooth Fairy. It wasn't the first bizarre nocturnal sight he'd witnessed, and it definitely wouldn't be his last. (Facebook Live Video)
Friday Aug 17, 2018: NON-FICTION: The Ghosts of the Albion Hotel – The Albion hotel is a Georgian-style colonial roadhouse in Bayfield, Ontario, not far from the shores of Lake Huron. A fully functioning bar and hotel with a handful of rooms, the Albion, which was built in the early 1840's is allegedly home to more than one lost spirit. (Facebook Live Video) – YouTube Video
Friday Aug 24, 2018: FICTION / (DARK POETRY) – 3 Dark poems: "The Sound of One Man Screaming," "Frost After Midnight," and "With Apologies to E.P." (Facebook Live Video) – YouTube Video
Friday Aug 31, 2018: NON-FICTION: The Bookstore Portal – Bob's Beach Books, Lincoln City, OR  – An eerie encounter the manager had with a couple who walked into the store and then disappeared into thin air.  (Video from 2017 – Mark in front of Bob's Beach Books) – Facebook Live Video
Friday Sept 7, 2018: FICTION: The Pizza Man – A group of students keep getting pizza deliveries that they never ordered. Is it a strange prank, or is there something more to the mysterious man who keeps showing up at their door?
Friday Sept 14, 2018: NON-FICTION: Ghosts of the Old Ottawa Carleton Jail – Have you ever slept in a prison by choice? How about a haunted prison? There is a hostel in the Nation's Capital that was originally home to the Carleton County Jail, a maximum security institution with more than its fair share of ghostly tales. Facebook Video – YouTube Video
Friday Sept 21, 2018: FICTION: The Bogeyman Can – "Who can take a garbage bag? (Garbage Bag) And stuff it full of kids (Stuff it full of kids). Who can murder anyone he wants to and get away with it? (The Bogeyman) The Bogeyman can because he stays right out of sight until the lights go down!"