#FreeFridayFrights
---
FREE FRIDAY FRIGHTS – A weekly free read from Mark Leslie. Alternating each week between fiction and non-fiction, an entire short story or short non-fiction true ghostly or eerie tale will be available to read here for approximately 24 hours.
In additional, Mark will be doing a live reading of the fiction or a live discussion/storytelling of the non-fiction topic – that audio/video version will remain available beyond the Friday and will be structured in the following format: Brief Intro to that day's free fright, reading/relayed tale, a short behind-the-story/behind-the-research chat, followed by a Q&A.
Bookmark this site for your weekly reading fix. Follow Mark's Author Page on Facebook for the live broadcasts.
---
Scroll to the bottom to see a list of the previous #FreeFridayFrights content
---
Friday Oct 19, 2018
FICTION:  Treats

Old man Percy sits in the dark in his house on Halloween ignoring the knocks from the neighborhood children as well as their taunting chants about the perverted recluse who keeps the body of his dead wife in the bedroom upstairs.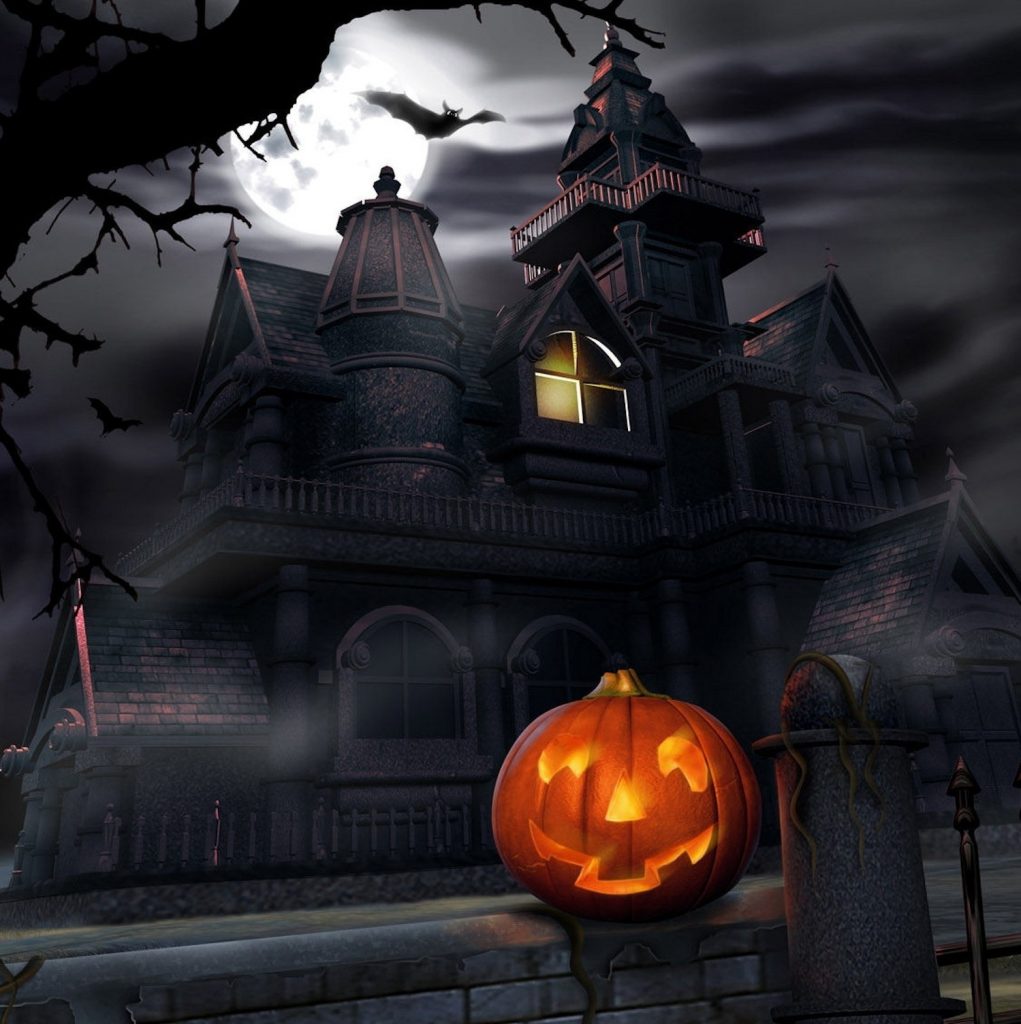 Though the ringing of the doorbell continued to echo through the house, Percy sat alone in the dark, his arms folded across his chest, and refused to answer the door.
"You're not getting any treats from me," he mumbled, shifting to get more comfortable in the overstuffed chair. When the ringing ceased he heard some grumbles from outside, then the sounds of the kids clambering down the porch steps on their way to beg at other houses for candy and goodies. As they walked away from the house he could see their dark silhouettes moving along the walkway.
Last year, he'd yelled out: "Bugger off!" But that only alerted them to the fact that he was home, and they pelted his windows with eggs and tomatoes.
But not this year – this year he decided to sit in the dark, wait them out and watch. No treats. No tricks.
Why should he give those snot-nosed little brats any treats? What did they ever do for him besides trample his petunias or put the occasional baseball through one of his windows? And if that weren't enough, they were spreading rumours about crazy old Percy who lived alone in that huge house, giving it to the corpse of his dead wife every night.
At that thought, Percy decided it might be a good idea to go check in on Bertha. He got up from the armchair and moved through the dark out of the study and into the hall. The stairs creaked beneath his feet as he climbed, mocking the unheard creaking of his very bones as he moved.
The smell hit him most powerfully, as it always did, at the top of the stairs. Sure, it reached into every corner of his home, permeated every molecule of the air inside his house, but it always seemed worse at the very top of the stairs.
He was already so used to the putrid, rotting odour that it no longer nauseated him – in fact, it had been at least a month now since he'd vomited upon reaching the top of the steps – but his nose still wrinkled and his lips pressed together tightly in an attempt to filter out as much of the stench as possible.
He slowly opened the spare bedroom door, and, even though he knew the smell had to be worse at this point, it never bothered him so much as it did at the top of the stairway. He liked to think it had something to do with leaving the bedroom window open and laying out dozens of containers of potpourri and boxes of baking soda in the room.
The "death" room was lit only by the light which filtered in through the unblinded window. Percy was thankful he couldn't see his poor wife's decomposing body, but the dark brought with it chilled memories of what she looked like. Laying still and quiet in the bed, her thin flesh had seemingly melted itself over the sides of her skull and sunk into her eye sockets, transparent in some spots, like mozzarella cheese heated over a bagel.
Time had not made his task any easier for him. In fact, it had been months since he'd been able to get close enough to kiss her gently on the forehead like he had always done when she was sleeping; and for that he was ashamed. What kind of sorry man couldn't even honour his wife with a gentle show of affection?
All of this, after all, was for her. He'd never gone back on a promise to his wife during their 34 year marriage and he wasn't about to break this one, his last promise to her, no matter how hard it became.
It had been the night before she died when Percy stood watching Bertha toss and turn in her sleep, unsure of whether or not the nightmare she was having could possibly be worse than the reality of the inoperable brain tumour that sat, like a time bomb, in her head. At that moment, Percy could conjure up no worse image than being without his wife, his lover, his best friend, so he decided to let her have her nightmare. It was almost as if the false terror she was experiencing in her dreams was a treat that she was allowed to indulge in. A treat, perhaps, because it was not real, after all, and would be over the moment she woke.
But the reality – the "daymare" Bertha and Percy shared, was something they'd never have the luxury of waking from. Sometimes, in an overwhelming sense of grief, he imagined the tumour sitting in her head like some puffy Jim Henson created monster, gloating at the two of them. "My only purpose," it would half-grunt, half-chortle, "Is to take away the one thing that is precious to you."
When Bertha finally woke, screaming, from her nightmare, Percy rushed to her side, cradled her head in his arms, and told her it was going to be okay.
"No," Bertha cried. "No, it's not going to be okay. Can't you see? Can't you see, Percy? Soon, I'm going to die and then they are going to get me."
"Nobody's going to get you, love."
"Yes, Percy. That's what they do. They wait for you to die and then they crawl in through cracks in the coffin while you lay there helpless. I don't want that to happen. It can't happen!"
Percy rocked his wife back and forth, stroking her head. They had discussed the bugs before. Bertha's greatest fear, which seemed to get worse every day closer to her death, was of having the ground bugs crawl into her coffin and consume her flesh. Their religion forbade the ritual of cremation, so that wasn't an option. All that Percy could do was rock with her in his arms and tell her in a soothing voice that she would be safe from the ground bugs.
This time, though, she wouldn't be pacified by such vague words of hope.
"It can't happen! You can't let it happen!" She screamed, moving away from his gentle hug. Her eyes, almost lit from within by the fear pounding in her heart, bored into his own. "Promise me, Percy! Promise me that you won't bury me until there is no more flesh on my bones."
"Bertha, that's not possible. I can't . . ."
Yes, you can. You have to! Promise me, Percy. Promise me!"
He stared at her, wondering if it were the tumour that were making her act this way.
"Promise me! Please, please, please, Percy."
He looked down at his hands, sweaty and shaking in his lap. "Okay, Bertha. I promise." When he looked back up, her fear was gone, had vanished. With a smile she thanked him and then, amazingly, drifted back into sleep.
As the memory of watching her fall back asleep that night floated through his mind, his eyes started to glass over in tears. He didn't pause to wipe them, he just let himself cry.
"Oh, Bertha," he sobbed. "I won't break my promise. But it's so hard – so hard!"
When the tears were finally over, Percy could hear laughter filtering in from outside. He looked over to the window, remembering again what night it was. The trick or treaters were still out there. He'd better go stand watch again.
Before leaving the bedroom, he decided it would be a good idea to close the window and the blind. There was no telling what the mischief makers could get up to when he wasn't constantly watching.
As he moved down the stairs he was glad that he had shut Bertha's window. It seemed only a matter of time before they tried crawling up the eaves to peek in through the window for a look at her. It was bad enough that he had become the subject for so many childish bleatings overheard in the town. He couldn't bear the idea of "giving it to her" as they said in a laughing rhyme they'd made up about him.
Percy, Percy, quite perverse-ee; gives it to her, shows no mercy.
Some nights he'd lie in bed with that stupid sing-song going through his head and he'd cry himself to sleep.
Percy, Percy, quite perverse-ee, wanted more, so stole a hearse-ee.
Immoral little bastards.
Despite their knack for destruction and painful, dehumanizing rumours all year, one night a year all they needed to do was put on a costume and ring at his door and he was supposed to give them treats? Yeah, right, he thought, settling back down in the armchair. Show them mercy, Percy.
"Screw you," he whispered under his breath. "There's no way you're getting any treats out of me."
Even though he knew it meant spending the evening sitting in the dark in his study and thus losing time he'd rather spend reading from the vast selection of gardening and antique books he and Bertha had collected over the years, his decision was worth it. It was better this way, when he could watch them from the safe darkness of the study. That way, he'd catch them if they tried any of their stupid Halloween tricks.
A new stirring of movement outside the window caught Percy's attention.
He watched a small pack of them loiter up the walkway, thinking to himself: "Doesn't the fact that there are no lights on dispel them?" A smaller, chunky shadow of a kid scurried along a few steps behind the troop. Percy watched as he neared them, then dashed, with a sudden turn, behind a hedge to the left of the walkway.
"What's that little bugger up to?"
He leaned forward in his armchair, squinting, but couldn't make out the short fat kid's figure among the shadows of the hedge.
Meanwhile, as the rest of the pack disappeared in their approach to the house, he listened for the usual childish banter and heavy footfalls on his porch steps, but there was nothing yet.
This was it, he thought. They were getting ready to play a trick – but little did they know he was ready for them.
He got up from the chair and pressed his face up against the window, trying to get a look at the porch, but the hedges and shadows prevented him from seeing anything.
As he was pressed against the glass, he caught a scuttling movement near the ground and quickly turned his head to see what it was.
Just then a shadow dropped in front of the window. Percy flinched back, at first guessing that a rock had been thrown. But when the object hit the window making little more than a quiet thump, he quickly surmised it couldn't even have been an egg.
Confused, he stood and looked at a huge wide strand of a whitish material that ran diagonally across the window. "Toilet paper," he muttered. Of course, it was the oldest trick in the book.
That was it. He made his way through the study and headed to the front door. He'd nab the little buggers in the act.
But a noise coming from the basement stopped him.
They're kids, but they're not stupid, Percy reminded himself. Was this toilet paper and scuttling about the yard just a diversion so that one of them could sneak inside and steal some treats, or perhaps trash the place?
Or maybe they wanted to get a look at Bertha.
How dare they?
Percy ran to the kitchen, pulled open a drawer and dug around for the flashlight. When he found it he moved to the basement door. At the top of the stairs he paused and listened again.
A scraping sound echoed through the darkness.
"You won't be getting any treats from me this year – you hear?" Percy cackled, casting the flashlight beam back and forth across the basement as he descended. "And you certainly won't be getting a look at my dear Bertha."
When he reached the bottom he looked around the pile of storage boxes and then circled behind the furnace. He couldn't detect anything amiss. He did, however, notice that the basement window was cracked open. He shone the flashlight on it. Did the kid really have time to squeeze back out the window before Percy got to the bottom of the stairs? Damn, he thought. I shouldn't have warned him by yelling.
A shuffling noise came from behind him. Percy whirled and faced the crawlspace under the stairs. "I've got you now, you little bugger," he said, advancing on the crawlspace.
Slowly bending over, his back aching in protest, Percy opened the door to the crawlspace and stuck his head and the flashlight inside. Apart from a thick coating of dusty cobwebs, there was nothing immediately inside. But he knew there was a narrow branch leading off under the west side of the house. He pointed the flashlight into the depths of that branch, but the cobwebs were so thick that the flashlight beam was caught on them and could proceed no further into the darkness than a few feet.
Quietly, the shuffling noise repeated itself somewhere in the depths of that darkness.
"All right, you're trapped now," Percy called into the darkness. "You may as well come out."
There was no response.
"For God's sake, kid. I know you're here. Just get the hell out and I'll let you go." But he knew, of course, that he had no intention of letting the kid off that easily. This was breaking and entering, and he'd caught the little bugger red-handed. There was hell to pay for this. Finally, some retribution for all the mischief they'd played on his all these years. He didn't even know where he'd begin.
Contemplating the fear he could instill in the kid, he waited.
Still there was no response.
Percy hunched himself a little tighter and got inside. "Have it your way, kid. Just don't assume that I'll be in a good mood once I reach you."
The cobwebs adhered to his face and he pulled at them, but they were stringy and tough. Despite his disgust, he kept crawling onward, smiling. It would make him very happy to catch the little fatso – he was sure, now, that it was the short fat kid he'd seen ducking away from the others – and show him no mercy whatsoever. He almost laughed aloud as the rhyme came to him. Percy, Percy, show no mercy; send the fat kid to the nurse-ee.
Inching along, Percy gave up trying to pull the cobwebs from his arms and face – there were just too many of them, and it was tough enough just moving forward through them. Keeping himself clean of cobwebs down here was as futile as trying to stay dry while treading water.
Every few feet, he noticed a mass of thick white bundles hanging down from the cobwebs. Most were the size of golf balls, but some were as large a tennis balls. Percy steered clear of them. Dead little bugs caught in a spider web were not on his list of things he'd like to touch.
He crawled onward. Where was the little tubbo? How far ahead could he be? He paused and thrust the flashlight ahead of him at arm's length.
His eyelids, thick with cobweb gunk, were harder to open, so he couldn't be sure what he was seeing just ahead. A wide white banner ran across the crawlspace, and as Percy approached it, he wondered at what kind of sick pleasure the kid would get out of toilet papering his crawlspace.
He slugged forward.
When he reached out to break down the toilet paper, his hand stayed stuck in it and the flashlight fell out of his grasp. It bounced end over end and then lay still on the crawlspace floor with the beam pointed back toward him.
He tried to pull his arm free, but it was caught at the wrist. It certainly wasn't toilet paper that held onto him so tight. It was some kind of huge gooey cobweb.
He tried pulling his legs up so he could use his feet to push off the wall and get himself free, but his legs were caught in something too. He turned his head to look at what they were caught on, but a sticky substance held the side of his bald head and he could only turn a little.
As he struggled harder with the webbing, something occurred to him, which he should have caught on to before. If the cobwebs were so thick and unbroken, then a kid couldn't have crawled through them ahead of him. The kid would have broken through all the cobwebs, leaving a clear path for Percy to move through.
Which meant there was no little fat kid inside the house – there never was.
What then, had that thing in the yard been? And what was making that noise in the darkness ahead of him?
He gasped at a strange quiet groan off to his right. It was one of the tennis ball sized sacks. The flashlight beam was pointing directly at it as it shifted and bobbed about, producing a sound he could only decipher as a moan of pain. A chorus of similar quiet groans echoed from the dark corridor he'd just passed through.
His mouth agape, Percy watched the bobbing sack stretch and expand. Then something black and needle-thin punctured the sack from inside. As it emerged, it thickened to a hairy, two inch leg.
Percy turned his head with what little movement he was allowed, unwilling to look at any more of the thing that was undoubtedly hatching out of the sack.
There was more shuffling off in the darkness ahead, and he was very glad that the flashlight was pointed toward him, preventing him from seeing what was making that noise.
The shuffling got louder, closer.
Percy quivered and tried to hug himself with his one free arm. Life is funny, he thought as he passed out. And death – death is the ultimate ironic joker.
After all of Percy's efforts of not giving out any treats on Halloween, the ground bugs – the ones Bertha had been most frightened of – had finally come to collect a treat he'd been keeping from them.
And tonight, they'd collect in spades.
---
This story originally appeared in Crossroads #19 (October 1997) and was republished in One Hand Screaming.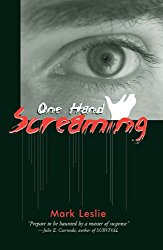 ---
PREVIOUS FREE FRIDAY FRIGHTS CONTENT:
Friday April 6, 2018 – FICTION: That Old Silk Hat They Found (You can still read it for free in Snowman Shivers in via Kindle, Kobo, iBooks, Nook, etc) – You can also watch a recording of the reading.
Friday April 13, 2018 – NON-FICTION: Friday the 13th: The SUPER Superstition (Now avail as a blog post) – You can also watch a recording of the talk.
Friday April 20, 2018 – FICTION: Phantom Mitch (Mark's first published horror story) from his book One Hand Screaming – You can watch a recording of the reading, live from a haunted bar in Hamilton, Ontario (Augusta's Winking Judge)
Friday April 27, 2018 – NON-FICTION: "Jack is Back: The Ghost of Jack Kerouac at Haslam's Bookstore" – An article based on "Kerouac's Favourite Haunt", a chapter from the book Tomes of Terror: Haunted Bookstores and Libraries – You can watch a recording of this talk.
Friday May 4, 2018 – FICTION: Active Reader – a cautionary tale what happens when a bookstore loyalty program falls into the hands of a macabre collector from Mark's digital chapbook Active Reader: And Other Cautionary Tales from the World of Books – You can watch a recording of this reading.
Friday May 11, 2018– NON-FICTION: You Are Never Alone in Sudbury. A look at the UFO activity in Sudbury over the years, as documented in several chapters of the book SPOOKY SUDBURY: True Tales of the Eerie & Unexplained. You can watch a recording of this talk.
Friday May 18, 2018 – FICTION: Browsers – a book nerd finds themselves trapped in an odd little bookstore that acts a little bit like a Venus Fly Trap for book lovers. You can watch a recording of this reading.
Friday May 25, 2018 – NON-FICTION: Ghostly and eerie tales from Century Manor, the last standing building from Hamilton's Asylum for the Insane. You can watch a recording of this talk.
Friday June 1, 2018: FICTION: Distractions – A frustrated writer takes the advice from a self-help book on eliminating distractions to a darkly humorous and violent extreme. You can watch a recording of this reading.
Friday June 8, 2018: NON-FICTION: Haunted Level 2650 of Levack Mine – On a quiet weekend in the 1970's a fireguard was down on Level 2650 of Levack Mine alone when he saw something that made him swear he would never go back down there again. You can watch a recording of this.
Friday June 15, 2018: You can watching a recording of this reading: FICTION: Nervous Twitching – The bizarre sight of seeing a chicken running around with its head cut off can be disturbing. So is this micro-fiction story about a man who has never overcome seeing that in his childhood.
Friday June 22, 2018: NON-FICTION: Faceless Ghosts. Tales of faceless ghosts including a couple from Mark's book Creepy Capital.
Friday June 29, 2018: FICTION: Almost. Extremely short. A classic and popular horror tale told from a different perspective. You can watch a recording of this reading and talk.
Friday July 6, 2018: NON-FICTION: The story behind Lovers Lane in Hamilton (Ancaster), Ontario
Friday July 13, 2018: FICTION: Excerpt from opening of the novel I, DEATH.  Peter O'Mallick believes he has a death curse, because everybody he gets close to or loves dies a tragic death. Blogging about his angst seems to help. At least, until the wrong person starts reading his posts and plans on using Peter's dark power for his own nefarious purposes.  (Facebook Live Video)
Friday July 20, 2018: NON-FICTION: Ghosts of The Winking Judge (Hamilton, Ontario) (Facebook Live Video)
Friday July 27, 2018: FICTION: Vengeance is a Delicacy Best Served Cold – Martin Hecht no longer possesses a human consciousness; all he knows is he can hear a woman screaming and it hurts his brain.  (Facebook Live Video)
Friday Aug 3, 2018: NON-FICTION: Books Made Out of Human Flesh – In the history of publishing, there was a time when binding books with human flesh was an actual practice. There are still copies of these books available at particular libraries (Facebook Live Video)
Friday Aug 10, 2018: FICTION: (Recorded live from When Words Collide in Calgary, AB): Nocturnal Visions – When Carl was six years old he watched in horror as the Sandman strangled the Tooth Fairy. It wasn't the first bizarre nocturnal sight he'd witnessed, and it definitely wouldn't be his last. (Facebook Live Video)
Friday Aug 17, 2018: NON-FICTION: The Ghosts of the Albion Hotel – The Albion hotel is a Georgian-style colonial roadhouse in Bayfield, Ontario, not far from the shores of Lake Huron. A fully functioning bar and hotel with a handful of rooms, the Albion, which was built in the early 1840's is allegedly home to more than one lost spirit. (Facebook Live Video) – YouTube Video
Friday Aug 24, 2018: FICTION / (DARK POETRY) – 3 Dark poems: "The Sound of One Man Screaming," "Frost After Midnight," and "With Apologies to E.P." (Facebook Live Video) – YouTube Video
Friday Aug 31, 2018: NON-FICTION: The Bookstore Portal – Bob's Beach Books, Lincoln City, OR  – An eerie encounter the manager had with a couple who walked into the store and then disappeared into thin air.  (Video from 2017 – Mark in front of Bob's Beach Books) – Facebook Live Video
Friday Sept 7, 2018: FICTION: The Pizza Man – A group of students keep getting pizza deliveries that they never ordered. Is it a strange prank, or is there something more to the mysterious man who keeps showing up at their door?
Friday Sept 14, 2018: NON-FICTION: Ghosts of the Old Ottawa Carleton Jail – Have you ever slept in a prison by choice? How about a haunted prison? There is a hostel in the Nation's Capital that was originally home to the Carleton County Jail, a maximum security institution with more than its fair share of ghostly tales. Facebook Video – YouTube Video
Friday Sept 21, 2018: FICTION: The Bogeyman Can – "Who can take a garbage bag? (Garbage Bag) And stuff it full of kids (Stuff it full of kids). Who can murder anyone he wants to and get away with it? (The Bogeyman) The Bogeyman can because he stays right out of sight until the lights go down!" (Facebook Live Video)
Friday Sept 27, 2018 NON-FICTION: The Ghosts of Haslam's Bookstore – a return to St Pete Florida to visit the bookstore that is allegedly haunted by Jack Kerouac, and learning tales about another restless spirit that might also lurk there.  (YouTube Video – shot at Haslam's in Sept 2018)
Friday Oct 5, 2018: FICTION: But Once A Year – Once a year, on All Hallow's Eve, the dead can rise from their graves and walk around and are forbidden from leaving the graveyard. But what happens when one corpse sneaks away and tries to escape? (Facebook Live Video of a reading of the story)
Friday Oct 12, 2018: NON-FICTION: The Mystery of the Ghost Boy at Indigo Montreal – An eerie experience that Mark had related to the book signing at the downtown Indigo. A creepy ghost boy image appeared in a mirror in more than one of the photos taken of the authors that night. (The Video this week is a collection of clips about ghostly occurences from Montreal)
Friday Oct 19, 2018: FICTION: Treats – Old man Percy sits in the dark in his house on Halloween ignoring the knocks from the neighborhood children as well as their taunting chants about the perverted recluse who keeps the body of his dead wife in the bedroom upstairs.