#FreeFridayFrights
---
FREE FRIDAY FRIGHTS – A monthly free read from Mark Leslie. Alternating between fiction and non-fiction, an entire short story or short non-fiction true ghostly or eerie tale will be available to read here.
In additional, Mark will be doing a live reading of the fiction or a live discussion/storytelling of the non-fiction topic – that audio/video version will remain available and will be structured in the following format: Brief Intro to that day's free fright, reading/relayed tale, a short behind-the-story/behind-the-research chat, followed by a Q&A.
Bookmark this site for your free reading fix. Follow Mark's Author Page on Facebook for the live broadcasts.
---
Scroll to the bottom to see a list of the previous #FreeFridayFrights content
---
Please note that this has been revised to a monthly update (as opposed to the weekly updates through much of 2018).
Also, feel free to download and read one of these free stories via the eBook retail platform of your choice: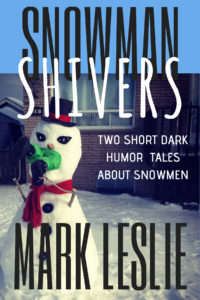 Snowman Shivers – Two Dark Humor Tales About Snowmen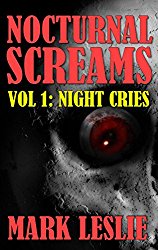 Nights Cries (Nocturnal Screams series)
Three tales that take place where darkness mingles with cries from the night
---
Friday Jan 18, 2019
FICTION:  I, Death

AUTHOR'S NOTE:  The original story "I, Death" was something I wrote for a Grade 11 free-writing exercise. The original hand-written tale was perhaps 1000 words long and was written in a one hour period where our English teacher, Mr. Gary Fuhrman, asked us to write anything we wanted during this period. It could be a story, an essay, a picture, a doodle, a tic-tac-toe game — whatever. It didn't matter what we wrote, just that we had free time to do something creative.
I loved those writing sessions, and I regularly used it as time to compose a story. "I, Death" is one of those stories.
I ended up returning to the character from this story a few years later when I was in University, and wrote a longer story entitled "Sin Eater" – I wanted to see where my narrator might be a few years later.
Flash forward several years, and I ended up re-crafting both those stories into a novella length project that I rolled out on a blog as a web-journal, in real time between January and September of 2006. That project ended up getting adapted into a novel that was published in 2014.
But, this is the raw and unedited story that I originally scribbled when I was an angsty 17 year old, much like Peter. This is the first time I have publicly shared this original story.
– Mark Leslie Lefebvre, Jan 18, 2019
I, Death

I open the door to my room, toss my books into the corner and throw myself onto the bed. Oh, what a headache; what a day.
Maybe I should stop here and explain myself to anyone reading this.
First of all, my name is Peter O'Mallick. I was orphaned at age three, when, as I'm told, my parents and my older brother were killed when our house burnt down. From then on I lived with my Aunt Shelly and Uncle Bob. They're nice people – I mean, they've been my parents ever since my folks died. And now, well, I guess that I should start at the beginning.
High school, for me, was okay. The classes weren't exciting or anything, but I guess that's the way school is. Oh yes, I should mention something major that happened to me back in grade ten that shook me up. I believe it has to do with my problem.
My best friend, Donny, died when we were out hunting together. It was strange, because everything was peaceful until that rabbit hopped by and Donny started to chase it. Well, he tripped, with the gun loaded; and I didn't see exactly how he landed, but I heard the gun fire.
I cried for months.
I know it seems cruel that I cried for my friend and not for my parents, but you must understand one thing. I didn't even know my family, much less know the pain of losing them. If I had been older when they died in the fire, I'd have remembered, and things would have been different. But as it was, Donny was the first one who I lost.
As I've mentioned earlier, this day hasn't been too great. As a matter of fact, this week hasn't been a joy to live through either.
Saturday, when I called my girlfriend on the phone, she was crying and told me that her father had less than a week to live. It was some type of internal cancer that had gone undetected for months. I tried to console her, but she exploded at me. When I went over she wouldn't come to the door. I guess she didn't know how to take it.
She hasn't been to school all week either and no one answers the phone. What bothers me is the fact that Sarah's father and I never got along and many times when I was over he ended up kicking me out over arguments that we would get into. It's only now that I see the connection to his fatal diagnosis.
On Monday, I went to school. Like I said, Sarah didn't go, so I walked alone. At school I talked with a group of friends; they were the group that I partied with and hung out with when I wasn't with Sarah.
"So when's Cottman going to throw the big test at us?" I asked as we sat at a table in the cafeteria. Cottman, by the way, is our history teacher.
"Wednesday, I think," Todd said.
"Ah screw that,"Ken cursed. I can still remember the hopeless expression on his face as he threw his books on the table and then looked around at us, smiling. "How about having a party Tuesday?"
"Right, idiot," Greg remarked.
"Why the hell not?" Tom called from the end of the table. "We'll get so blasted, man. We're gonna fail anyway, right? We might as well flunk in style, cause there's no way any of us could pass the test even if we do study."
"Yeah, right on!"Ken cheered, still smiling proudly.
"Sounds okay," Neil muttered.
"It's better than flunking the test without having a good time," I said.
"Okay guys," Todd grinned. "But where?"
"Ya jerks!" Greg spat out. "Like where will we party?"
Jason leaned forward and spoke loud enough so that only we could hear him. "At the pit! You know, the old dump. Just the seven of us."
Anways, we agreed on the party. I planned on telling Aunt Shelly that I was going to be at work late. I might as well skip the rest of what happened between our decision and the party. It's mostly unimportant. Life's like that – too much damned detail.
The party was great, a real relief from the coming test. I was so stoned that it's a wonder I even remember that night. But as it was, I do.
Now that I think of it, I find it strange that Todd didn't smoke anything; he even shied away from drinking heavily – it was as if he had sensed that something would go wrong. At the time, though, I wasn't concerned with Todd. Jason and I were sharing a joint and a beer, singing "Rock Me To Hell" by the Clann.
"Hit it to me baby!" I screamed.
Jason responded by clenching his fists and throwing the empty beer can into the fire. With a higher pitched voice than mine he continued the song. "Down on your knees!"
"Rock me to hell, baby!" We bellowed together.
Again, Jason acted out his line. He jumped on the rock where I was sitting and pushed me off. His hands moved about suggestively as he thrust his pelvis forward. He finished the tun this way, screaming the words: "Oh blow me a breeze."
Greg and Ken were laughing. I know that everyone was laughing, but they were the loudest.
Laughing also, I got to my feet and looked at Jason. He met my gaze and we smiled at each other. Then he collapsed in front of me, throwing up as he fell. The gang laughed more.
"Great stage show!" Greg said. "Especially the part where he pukes."
"Yeah," Ken burped. "Nice show. But the singing has to go."
I remember laughing some more. Then I remember that Jason wouldn't get up. Todd, being the most sober of our bunch, checked Jason's pulse, or something like that.
The next thing that I remember was waking up at home. From what my uncle had told me, he had been out looking for me that night – because he found out that I wasn't at work – when Todd found him. Todd had told him about Jason, and Uncle Bob called the emergency center. After a few hours in the hospital, my uncle said, Jason had died. It was alcohol poisoning.
That day, Wednesday, I didn't go to school. I had wanted to, but Aunt Shelly made me stay at home, insisting that I neeeded rest and time to think. She never talked to me that day much either. I don't think I should have blamed her though; I did lie about where I was to be the night before.
Thursday, this morning, she let me go to school.
"Come right home after your last class," she said.
I glared at her before walking out the door.
I don't remember if all the guys were at school, and I don't think that it matters. What does matter is that I heard my name being called on the public address system. I was wanted in the office.
When I got to the office, a school secretary handed me a phone. Uncle Bob was on the line. He was calling from the hospital. Aunt Shelly had died of a heart attack.
After returning home from school, I carefully placed my school books on the dining room table and waited for my uncle to come home.
I don't remember picking it up, but I had a picture of my aunt and uncle in my hands. It was a Christmas picture and they were standing in front of the tree. It had sat on the television set for a long as I can remember. and it was only now that I cared to look at it, to really examine it. I studied their young faces, so full of love. Love they had given to me – love that I had never truly acknowledged or even opening returned. There was too much pain in my heart to cry – even now, no tears fall as I think back.
After a while, I don't know how long, I heard the door open. I got up and walked towards Uncle Bob. His eyes were red and blurry, and tears streaked down his face. I put the picture down and held my arms out to him. He needed me. His wife – his whole life – was gone. He looked deeply into my eyes, searching for hope, for pity. That was when he bakced away. His eyes filled with terror, as if I were some horrible demon that had come to claim his soul.
He backed into the refrigerator, his mouth open as if to scream.
He must have known what I found out only now.
He clutched his chest and fell to the kitchen floor on his face.
The crunch of his nose sent shivers up my spine, and I turned and picked up my books, refusing to believe what had jappened, what I was.
Only now do I realize what killed him, what killed Aunt Shelly, Jason, Sarah's dad, Donny and my family. I sit here with the idea stirring in my mind, recalling the events  on paper. I know that details are unclear in some parts; I chose to ignore most of it because now that I understand what I am, I know so little.
I still don't know pain, or tears.
I know only one thing; that I am death.
I have killed many. Those who were close seem to have fallen prey to my underlying nature. I'm not sure how it works or how it decides what the cause of death in my victims will be, but I'm almost positive that it works through the eyes.
I cannot live knowing what I know, doing what I do. These pages, found here in my room on my desk, along with my body, are the only witness to the horror that I've lived.
Reader, you may believe what you will. Just be glad that I will not be alive to have a chance to befriend you.
When I finish writing these words I will walk across the room and gaze intently into the mirror.
For as long as it takes.
— END —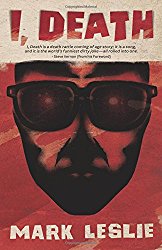 The novel I, Death, featuring a much longer story about Peter, is available in eBook and paperback format
---
PREVIOUS FREE FRIDAY FRIGHTS CONTENT:
Friday April 6, 2018 – FICTION: That Old Silk Hat They Found (You can still read it for free in Snowman Shivers in via Kindle, Kobo, iBooks, Nook, etc) – You can also watch a recording of the reading.
Friday April 13, 2018 – NON-FICTION: Friday the 13th: The SUPER Superstition (Now avail as a blog post) – You can also watch a recording of the talk.
Friday April 20, 2018 – FICTION: Phantom Mitch (Mark's first published horror story) from his book One Hand Screaming – You can watch a recording of the reading, live from a haunted bar in Hamilton, Ontario (Augusta's Winking Judge)
Friday April 27, 2018 – NON-FICTION: "Jack is Back: The Ghost of Jack Kerouac at Haslam's Bookstore" – An article based on "Kerouac's Favourite Haunt", a chapter from the book Tomes of Terror: Haunted Bookstores and Libraries – You can watch a recording of this talk.
Friday May 4, 2018 – FICTION: Active Reader – a cautionary tale what happens when a bookstore loyalty program falls into the hands of a macabre collector from Mark's digital chapbook Active Reader: And Other Cautionary Tales from the World of Books – You can watch a recording of this reading.
Friday May 11, 2018– NON-FICTION: You Are Never Alone in Sudbury. A look at the UFO activity in Sudbury over the years, as documented in several chapters of the book SPOOKY SUDBURY: True Tales of the Eerie & Unexplained. You can watch a recording of this talk.
Friday May 18, 2018 – FICTION: Browsers – a book nerd finds themselves trapped in an odd little bookstore that acts a little bit like a Venus Fly Trap for book lovers. You can watch a recording of this reading.
Friday May 25, 2018 – NON-FICTION: Ghostly and eerie tales from Century Manor, the last standing building from Hamilton's Asylum for the Insane. You can watch a recording of this talk.
Friday June 1, 2018: FICTION: Distractions – A frustrated writer takes the advice from a self-help book on eliminating distractions to a darkly humorous and violent extreme. You can watch a recording of this reading.
Friday June 8, 2018: NON-FICTION: Haunted Level 2650 of Levack Mine – On a quiet weekend in the 1970's a fireguard was down on Level 2650 of Levack Mine alone when he saw something that made him swear he would never go back down there again. You can watch a recording of this.
Friday June 15, 2018: You can watching a recording of this reading: FICTION: Nervous Twitching – The bizarre sight of seeing a chicken running around with its head cut off can be disturbing. So is this micro-fiction story about a man who has never overcome seeing that in his childhood.
Friday June 22, 2018: NON-FICTION: Faceless Ghosts. Tales of faceless ghosts including a couple from Mark's book Creepy Capital.
Friday June 29, 2018: FICTION: Almost. Extremely short. A classic and popular horror tale told from a different perspective. You can watch a recording of this reading and talk.
Friday July 6, 2018: NON-FICTION: The story behind Lovers Lane in Hamilton (Ancaster), Ontario
Friday July 13, 2018: FICTION: Excerpt from opening of the novel I, DEATH.  Peter O'Mallick believes he has a death curse, because everybody he gets close to or loves dies a tragic death. Blogging about his angst seems to help. At least, until the wrong person starts reading his posts and plans on using Peter's dark power for his own nefarious purposes.  (Facebook Live Video)
Friday July 20, 2018: NON-FICTION: Ghosts of The Winking Judge (Hamilton, Ontario) (Facebook Live Video)
Friday July 27, 2018: FICTION: Vengeance is a Delicacy Best Served Cold – Martin Hecht no longer possesses a human consciousness; all he knows is he can hear a woman screaming and it hurts his brain.  (Facebook Live Video)
Friday Aug 3, 2018: NON-FICTION: Books Made Out of Human Flesh – In the history of publishing, there was a time when binding books with human flesh was an actual practice. There are still copies of these books available at particular libraries (Facebook Live Video)
Friday Aug 10, 2018: FICTION: (Recorded live from When Words Collide in Calgary, AB): Nocturnal Visions – When Carl was six years old he watched in horror as the Sandman strangled the Tooth Fairy. It wasn't the first bizarre nocturnal sight he'd witnessed, and it definitely wouldn't be his last. (Facebook Live Video)
Friday Aug 17, 2018: NON-FICTION: The Ghosts of the Albion Hotel – The Albion hotel is a Georgian-style colonial roadhouse in Bayfield, Ontario, not far from the shores of Lake Huron. A fully functioning bar and hotel with a handful of rooms, the Albion, which was built in the early 1840's is allegedly home to more than one lost spirit. (Facebook Live Video) – YouTube Video
Friday Aug 24, 2018: FICTION / (DARK POETRY) – 3 Dark poems: "The Sound of One Man Screaming," "Frost After Midnight," and "With Apologies to E.P." (Facebook Live Video) – YouTube Video
Friday Aug 31, 2018: NON-FICTION: The Bookstore Portal – Bob's Beach Books, Lincoln City, OR  – An eerie encounter the manager had with a couple who walked into the store and then disappeared into thin air.  (Video from 2017 – Mark in front of Bob's Beach Books) – Facebook Live Video
Friday Sept 7, 2018: FICTION: The Pizza Man – A group of students keep getting pizza deliveries that they never ordered. Is it a strange prank, or is there something more to the mysterious man who keeps showing up at their door?
Friday Sept 14, 2018: NON-FICTION: Ghosts of the Old Ottawa Carleton Jail – Have you ever slept in a prison by choice? How about a haunted prison? There is a hostel in the Nation's Capital that was originally home to the Carleton County Jail, a maximum security institution with more than its fair share of ghostly tales. Facebook Video – YouTube Video
Friday Sept 21, 2018: FICTION: The Bogeyman Can – "Who can take a garbage bag? (Garbage Bag) And stuff it full of kids (Stuff it full of kids). Who can murder anyone he wants to and get away with it? (The Bogeyman) The Bogeyman can because he stays right out of sight until the lights go down!" (Facebook Live Video)
Friday Sept 27, 2018 NON-FICTION: The Ghosts of Haslam's Bookstore – a return to St Pete Florida to visit the bookstore that is allegedly haunted by Jack Kerouac, and learning tales about another restless spirit that might also lurk there.  (YouTube Video – shot at Haslam's in Sept 2018)
Friday Oct 5, 2018: FICTION: But Once A Year – Once a year, on All Hallow's Eve, the dead can rise from their graves and walk around and are forbidden from leaving the graveyard. But what happens when one corpse sneaks away and tries to escape? (Facebook Live Video of a reading of the story)
Friday Oct 12, 2018: NON-FICTION: The Mystery of the Ghost Boy at Indigo Montreal – An eerie experience that Mark had related to the book signing at the downtown Indigo. A creepy ghost boy image appeared in a mirror in more than one of the photos taken of the authors that night. (The Video this week is a collection of clips about ghostly occurences from Montreal)
Friday Oct 19, 2018: FICTION: Treats – Old man Percy sits in the dark in his house on Halloween ignoring the knocks from the neighborhood children as well as their taunting chants about the perverted recluse who keeps the body of his dead wife in the bedroom upstairs. (Facebook Live Video of reading)
Friday Oct 26, 2018: NON-FICTION: Halloween / All Hallows Eve – a look at the origin of and some trivia associated with this most awesome celebration. (Watch the video)
Friday Nov 2, 2018: FICTION: The Shadow Men – The bogeymen of the New Hampshire wilderness known as "The Shadow Men" lurk in the shadows of the trees and only come out at night in order to lure and trick children into their clutches. (Facebook Live Video) – (YouTube Video)

Friday Nov 9, 2018: NON-FICTION: Haunting Hotels – Mark talks about how often he haunts hotels as well as a single eerie hotel experience he had a few years ago. (Facebook Live Video) (YouTube Video)
Friday Nov 16, 2018: FICTION: Three Short Poems. Mark reads "There Is A Low and Fearful Cry," "Blood Dreams," and "Wailin' Jenny" – two dark and moody poems and one dark humor poem. (Facebook Live Video)
Friday Nov 23, 2018: NON-FICTION: "That's How Houdini Died!" A look at the details that led to the common believe that Harry Houdini died due to a series of blows to the stomach. (YouTube Video)
Friday, Nov 30, 2018: FICTION: "Little Things" – Strange little creatures appear in the middle of the night, but Daniel is the only one who can see them. His wife, Joy, becomes distraught at the bizarre way her husband is acting, but, more horrifying is what the tiny little things are doing to her body. (Facebook Live Video of the reading)
Friday, Dec 7, 2018: NON-FICTION: "Old Town Pizza & Brewing" – The ghost of Nina, a murdered prostitute who allegedly haunts the back area of the restaurant and brewery near the old elevator shaft where she was shoved down when the building was a hotel.
[The format has been updated to a monthly rather than a weekly schedule]

Friday, Jan 18, 2019: FICTION: "I, Death" – The original short story that was eventually adapted into the novel of the same name. Peter O'Mallick has a death curse. Everyone he knows and loves seems to be dying because of this curse. How can he stop it? (FacebookLive Reading)