With more than thirty years of experience, I have been involved in bookselling as it evolved from strictly bricks and mortar operations and into online and digital venues and have continually been at the forefront of applying digital solutions to publishing and book selling.
I have been President of the Canadian Booksellers Association, have sat on the Board of Directors for BookNet Canada and was part of the professional advisory committee in the creation of Sheridan College's Honours Bachelor of Creative Writing & Publishing program. I also spent six years as the Director of Self-Publishing and Author Relations at Kobo, where I created and launched their hugely successful Kobo Writing Life self-publishing platform and team. I also consult part-time for Draft2Digital, an internationally respected and author-centric eBook and print distribution player, where I wear the title of Director of Business Development.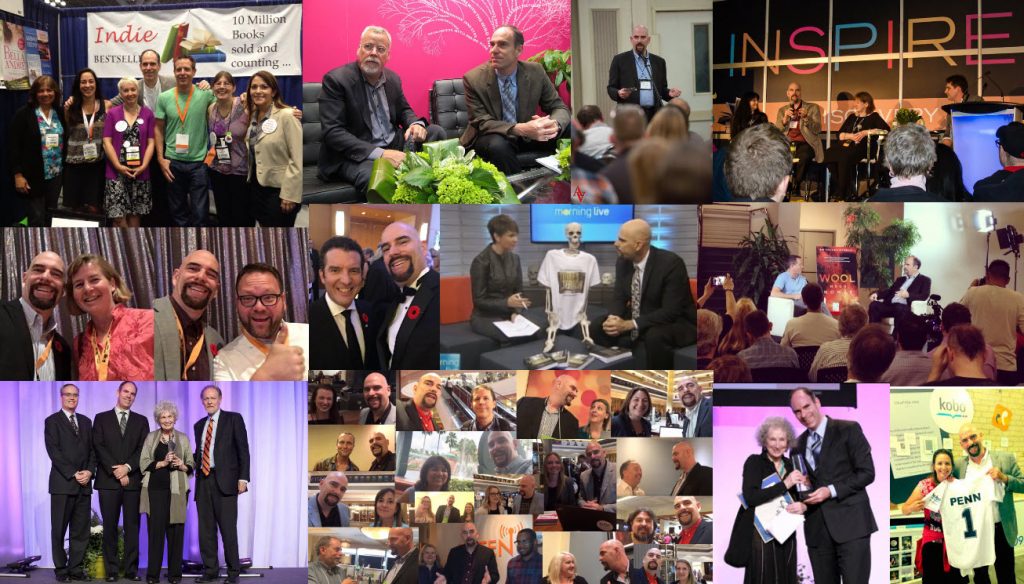 I have worked with international bestselling authors, publishers, book production houses and distributors from around the world, as well as authors who are just getting started and who aren't sure where to turn, who to trust or what to do next.
I am able to customize my work approach to meet the needs of both corporate and personal clients, with a focus on proficiency and specific and unique targets for each client.
I am available for speaking, workshops, virtual and in person 1:1 consultations.
I am passionate about innovation and excellence within all aspects of the publishing and bookselling industry and I thrive on supporting authors and publishers.
---
To book me for as a speaker for an event or for an interview as an author or industry representative, please fill out the Contact Booking Form.
---
The best way to connect with and see if I'm the right person to help you with your writing and publishing goals is to fill out the CONSULTATION REQUEST form in order to schedule a free 20 minute consultation.
If you already have booked a free 20 minutes and would like to dig a bit further, you can book me in for $99 USD for a full hour. (Seriously, try the free 20 minutes first – you might get all you need and be done – if not, that's almost an hour and a half)
If you request a free consult please note that there is absolutely no obligation to book any additional paid time. As a writer, I hate when things come with strings attached.
In fact, I'm often pleased when people are able to get all they need out of a free consult, because sometimes that's all it takes as a helpful step towards saving you time and money.
Areas Most Frequently Requested for Coaching & Consultation:
Publishing options and marketing strategies for your book/writing project.
Author coaching on basic self-publishing strategy, marketing options and process questions.
eBook publishing, digital publishing and POD (print-on-demand) related questions.
Optimizing your author brand, your visibility, and identifying your target audience.
General book industry trends, global bookselling trends, and marketing advice.
Strategies for working collaboratively bookstores, libraries, and other retailers.
These are the most common solutions/problems/areas where I have assisted authors with:
You have just written a book and have no idea what to do next and want help navigating the multitude of options available to you.
You are self-published and are wanting to understand traditional publishing options available to you.
You're a traditionally published author and want a clear understanding of how to navigate the indie-publishing space.
You're an author with experience and some knowledge, but want to understand what it might take to move up just one or two more levels in your author career.
You need help deciding whether or not to be exclusive to a single retailer or if publishing your book(s) wide and global is the right solution for you.
You want to build your passion for writing and storytelling into a long-term author career by adapting specifically curated success strategies that fit in with your goals.
Please note that I will be unlikely to help you directly with any of the following:
You have an idea for a book and need help writing it, or need someone to write it for you (sorry, I write ghost stories, but am not a ghost writer)
Finding an agent or publisher for your manuscript (although I may be able to make recommendations where applicable)
Reading, editing, proofreading or reviewing your book (again, I know trusted people in this area)
PR, publicity or direct marketing of your book (ie, I don't sell direct marketing solutions. I know of some great places that authors have used successfully, and can make recommendations, but I don't do the direct marketing)
Pointing out the one-thing you need to do to make everything better or solve all of your writing and publishing woes (if only it were that simple. Sorry, while some things are simple and easy, once you lay out the proper path and goals, nothing is ever a simple one-step click of an easy-button)
Short term tactics and tricks to sell a certain amount or hit specific "bestseller" lists (Yes, there are some things I can advise you on that will result in increasing sales, increasing your rank on various retailers, and growing your readership, but I prefer to focus on long-term strategies over today's hot and non-sustainable hack. If you want, there are endless people hawking short-term tricks-of-the-week. I'm not one of them)
One thing I can promise you that I CANNOT or WILL NOT do is offer you ANY sort of guarantee that if you do X, you'll earn Y amount of money, or sell Z amount of books. It simply doesn't work that way, and if I were you, I'd be extremely leery of anyone who makes such an offer. Chances are, the only guarantee is they will make X amount of money off of you. That's the guarantee.
The other thing you need to know is that there's never going to be any sort of magic bullet. In my experience, the only "magic bullet" is determination, hard work, commitment to excellence, and planning out a long-term strategy that matches to your specific goals.
You will not walk away from a consult with me with any long-term value unless you're willing to work at it, to adapt the things we go over together and work through into your own vision, your own unique and personal strategy for long-term author success.
---
There are a number of different titles available where I've done my best to include my insights about various aspects of the business of writing and publishing. And they can all be found listed here. Feel free to order them online or request them via your local library.
---
Below are a few other options that you might consider.
I have started to roll out a few online workshops based on talks I have given. You can check them out here.
In my weekly podcast, Stark Reflections on Writing and Publishing, I interview writers, other artists and creatives, and industry professionals, and reflect on my ongoing learnings about the craft and business of writing and publishing.
---
* In the past my marketing strategy/coaching services were listed on Reedsy. I haven't had the time to keep up with the demand there, but they do have plenty of trusted consultants; and not just for navigating publishing, but editors, cover designers, and more. If you use the following affiliate link, you can get a $20 credit to Reedsy just for signing up. Reedy Affiliate Link with $20 Credit.

---
Testimonials
Mark was a critical hire at a critical time for Kobo. We knew independent publishing was a growing phenomenon in ebooks but needed the right person to create that all-important bridge with the author community. Mark performed that role perfectly, winning authors over to Kobo Writing Life with his combination of energy, lived experience as an author, genuine enthusiasm for how technology could extend a writer's reach. A truly valuable person.
– Michael Tamblyn, CEO, Rakuten Kobo Inc.
Anyone who is releasing or re-releasing a book, I cannot recommend Mark enough. He has helped me get my book into libraries, improved my Amazon authors page, increased digital sales, collated all my books on Good Reads, interviewed me on his podcast, and NOW has saved my audiobook project, getting it edited and published after months of frustration with a sound tech I hired to record it in studio. PLUS he's showing me how to bundle audio, ebook and bonus resources so I can sell as a bundle (one conference has already bought it and LOVE the idea). Every penny I've invested in Mark has paid for itself and more. Plus, he's ridiculously easy to work with and honest, kind and funny. Can't recommend him enough.
– Sarah McVanel, CSP, Professional Speaker and Author
Mark was awesome. Always available and great insights into how selling a book works and how to set up ad campaigns and profiles on all the relevant sites. He was 75% cheaper than other quotes I received and provided me value in excess of what I paid him. He goes the extra step after your call is over and is a real pleasure to deal with.
– Alan Rabb, Founder & President, ACS Consulting
I just completed an author and publishing consulting session with Mark. He had outstanding answers for all my prepared questions, and just as good for those that came up. His broad knowledge of publishing provided me with valuable contacts, reference materials and a couple of great ideas to move my writing and publishing projects forward. I highly recommend any way you can find time to spend with him – great value at half the price you'd expect!
– Mark Jones, Writer & Editor
Mark is insightful and generous. He has a kind and helpful demeanor that not only put me at ease, but also made me feel smarter. That's a rare and valuable skill.

The world of independent publishing can be daunting and having an ally like him put me at ease. He answered my questions, anticipated where I might have other concerns, and showed me how to address both in an easy step-by-step process.

Contact him now!
– Jess Ponce, author of Everyday Celebrity and Managing Partner, Media 2×3
Mark was Director of Kobo Writing Life since its conception in 2011 and in many ways his passion is woven into the DNA of the platform. His vision of what a self-publishing service should look like gave direction to the product design and development teams in the early days, and since its launch in 2012, Mark's passion to support independent authors and publishers has been crucial to the fantastic success of Kobo Writing Life today.

He was a continuous driving force inside Kobo to gain support across departments for the marketing and promotion of KWL authors, and for maintenance and improvement of the platform and services. Within our high-tech, KPI-driven organization, the individual author performance gets easily overseen, and it speaks to Mark's core passion that his focus is always on the interest of that independent author-publisher.
– Pieter Swinkels, Executive Vice-President, Publisher Relations & Content, Rakuten Kobo, Inc.
Aside from his excellent work ethic, Mark's incredible knowledge in the field of book editing and printing combined to his contagious enthusiasm ensure he delivers great results on his commitments.
– Simon Raby, Business Development Executive, Xerox
Mark was a pleasure to work with. He turned a major problem for me into a simple fix. Would that there were more like Mark in the publishing business. We authors would all be the better for it.
– Jack Duarte, Bestselling Novelist
Mark has three key skills that I appreciated tremendously as he supported my team.
a) very strong customer focus – he sincerely was interested in supporting my team's results
b) terrific creativity in identifying resolutions to issues
c) wonderful interpersonal skills; he listens first, speaks second in a confident and poised manner with all levels of the organization.
– Rob Spence, Senior Supply Chain Director, Indigo Books & Music
Mark brings a high level of energy, enthusiasm and creative problem solving into the work environment and is capable of successfully bridging the gap between the needs of the business and the what is available in terms of technical requirements.
– Sean Chard, Director, IS Infrastructure Services at exp Global Inc.
---