NEWS & UPDATES OPTIONS
1) Subscribe to the Mark Leslie Newsletter (For Readers) or the Stark Reflections Newsletter (for Authors)
2) Stark Reflections Podcast – weekly podcast about the business of writing & publishing.
3) Follow Mark on Twitter or Instagram or TikTok or check out his YouTube channel, or his Author Facebook Page.
NEWSROOM
Mark is researching and soliciting stories and insights for a few forthcoming books:
Forthcoming Appearances
June 23, 24, 25, 2023 – Authortube Writing Conference.

Fri June 23 (3:30 PM Eastern): Keynote: "Embracing Technology for Success" (Virtual)
Sat June 24 (11:00 AM Eastern). Presentation: "Next Level Global Publishing with Draft2Digital") (Virtual)
Sat June 24 (1:30 PM Eastern). First Page Critique Panel (Judge) (Virtual)

June 24, 2023 – Author/Vendor table at Sudbury Graphic Con (Sudbury, ON)
July 12, 2023 – BOOK RELEASE Yippee Ki-Yay, Motherf*cker!: A Trivia Guide to Die Hard (35th Anniversary of the release of Die-Hard)
Aug 4, 5, 6, 2023 – When Words Collide (Calgary, AB)
Aug 13, 2023 – BookMARCon Virtual Presentation – The Power of Author IP (Intellectual Property): Leveraging choices, options, and maximizing your earning potential in today's digital world
Aug – Aurora Awards 2023 – Co-host (along with Liz Anderson) (Virtual)
Sept 20-24, 2023 – Novelists Inc – (St Pete Beach, FL)
Nov 6-10, 2023 – 20BooksVegas – (Las Vegas, NV)
Previous appearances, interviews, talks on radio, television, podcasts, publications, etc.
2023
May 29, 2023 – Guest on The Write Better Fiction Podcast with Shane Millar – Publishing Books Wide with Mark Leslie Lefebvre – Episode 9 – (YouTube)
May 25, 2023 – Written Word Media Speaker Series – "Adapting a WIDE Mindset for Long Term Publishing Success" (Virtual)
May 24, 2023 – Plottr Wide Publishing Summit 2023 (Virtual) – Noon Eastern – 10 Ways You Can Leverage Draft2Digital for Your Author Success"
May 18, 2023 – Read me a Nightmare Podcast (with host Angelique Fawns) – Episode 33 – Browsers (Read by Eric Bryan Moore) and Interview with Mark Leslie
May 17, 2023 – Hamilton Public Library (Terryberry Branch) – Talk with Hamilton Mountain Writers: My Spooky Journey Through Publishing (Hamilton, ON)
May 15, 2023 – Guest on Writers & Illustrators of the Future Podcast (Talking about the novel LOVER'S MOON, the Canadian Werewolf novels, other writing, and book rating systems – Episode 225 – Book Rating System G, PG, R, X equivalents
April 27-30, 2023 – Pikes Peak Writers Conference (Colorado Springs, CO)
April 25, 2023 – Live with Bob Van Buren on Episode 110 – Mark Leslie – The Parody's the Thing on the Van Buren Variety show. (Virtual – YouTube link)
April 22, 2023 – Brantford Public Library: Finding Your Past: A Half-Day Workshop – 12:30 PM "Researching the Unusual")
April 9, 2023 – Guest on Alchemy for Authors with Jo Buer – Episode 51: Connection, Optimism, & Publishing Wide with Mark Leslie Lefebvre
April 3, 2023 – Featured guest on Roadside Podcast – Episode 19
Mar 14, 2023 – BOOK RELEASE: Hex and The City (Book 6 in the Canadian Werewolf series)
Mar 2023 – Featured author on the cover of Indie Author Magazine. (Read Online) (Amazon)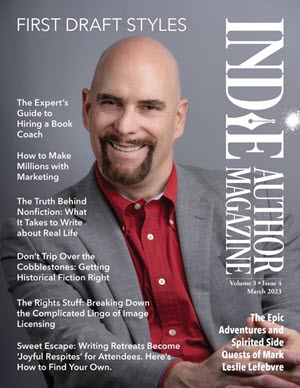 2022
Dec 19, 2022 – California Haunts Radio – Season 3: EP 73 – Haunted Bookstores, Hospitals, and Libraries with Mark Leslie
Dec 14, 2022 – Fantastic Fiction Podcast: Marvel Comics Christmas Team-up (Spider-Man and The Human Torch)
Nov 26, 2022 – Local Author Book Sale (Three Sisters Community Centre, St. Jacobs, Ontario) 10 AM to 4 PM (Cancelled appearance due to illness)
Nov 19, 2022 – Guest on Paranormal Fears hosted by K-Town: Tomes of Terror: Haunted Bookstores and Libraries
Nov 14-18, 2022 – 20BooksVegas (Las Vegas, NV)
Nov 1, 2022 – Guest (along with DC Gomez) on Lurking for Legends
Oct 28, 29 2022 – Frightmare in the Falls (Niagara Falls, Ontario) (Con)
Oct 24, 2022 – Guest on Become a Writer Today with Bryan Collins: Building a Successful Indie Career with Mark Leslie Lefebvre
Oct 18, 2022 – Guest on Lurking for Legends – (EP 085 with Mark Leslie)
Oct 12, 2022 – Guest on B Live Media Podcast: Writer's Corner: Mark Leslie with Lover's Moon (Or: YouTube Video Link)
Oct 11, 2022 –

BOOK RELEASE

: The Canadian Mounted: A Fan's Trivia Guide to Planes, Trains and Automobiles
Oct 8, 2022 – The Write Women Book Fest (Glenn Dale, MD)
Sept 29/Oct 1 – 10 PM Pacific / 1 AM Eastern – "Haunted Tales" – Guest on COAST TO COAST AM with George Noory
Sept 21 to 25, 2022 (St Pete Beach, FL) – NINC 2022: Work Smarter
Sept 14, 2022 – 8 AM Pacific / 11 AM Eastern – Panelist on Technology Revolution: The Future of Now with host Bonnie D. Graham. Topic: The Future of Creativity – Is Technology Helping or Hindering?
Sept 11, 2022 – Eden Mills Writers' Festival – Noon to 6 PM
Sept 7, 2022 – Guest co-host on SELL MORE BOOKS SHOW – Episode 439
Aug 31, 2022 – Waterloo Book Festival (Waterloo Public Square) 5 PM to 9 PM
Aug 25, 2022 – The Corner Bookstore (Hosted by Dr. Jacalyn Kerbeck & Diann Floyd Boehm): The Corner Bookstore Welcomes Waterloo Author Mark Leslie
Aug 13, 2022 – Co-Host (with Liz Anderson) of the 2022 Aurora Awards
Aug 12, 2022 – Guest on The Fantastic Comic Fan Podcast Hosted by R.T. Fleming (EP 57 – Author Mark Leslie)
Aug 12, 2022 – Host of When Words Collide Guest of Honor Virtual Keynote Talks
Aug 11, 2022 – Host of When Words Collide Guest of Honor Virtual Readings – 8 to 9:30 PM
Aug 11, 2022 – Levack/Onaping Public Library (Onaping, ON) – Talk/Reading/Book Signing – 4 to 7 PM
July 1, 2022 (to Aug 31, 2022) – Mark is reading for a special writing contest for young people from his home town of Onaping Falls (Levack, Onaping, Dowling, Ontario). Creatures in the Library
June 26, 2022 – LIVE Stream interview on PARANORMAL SOUP (Episode 318) – Watch on YouTube or Facebook – Show starts at 11:00 PM Eastern. Mark is scheduled to appear at 11:30 PM Eastern.
June 26, 2022 – The Writers Podcast Episode 54 – Julie Strauss and Mark Leslie Lefebvre
June 25, 2022 – Guest (with Julie Strauss) on Sci-Fi Saturday Night (TalkCast 529 – Anthropodermic Bibliopegy for Beginners) – talking about Lover's Moon
June 23, 2022 – Guest on The Douglas Coleman Show (YouTube Video)
June 18, 2022 – Book Signing. Cambridge Indigo. 11 AM to 4 PM
May 18, 2022 – FICTION MARKETING ACADEMY (VIRTUAL) – (May 16 to 20, 2022) – Publishing & Marketing Wide
May 24, 2022 –

BOOK RELEASE

: Lover's Moon: A Canadian Werewolf Novel (co-authored with Julie Strauss)
May 14, 2022 – The World of Publishing (A Full Day Workshop) with Mark Leslie Lefebvre. Hosted by Vancouver Island Romance Authors (Victoria, BC)
May 12, 2022 – Guest on The Writer's Mindset Podcast with Ellie Betts and Kristina Adams – Publishing Wide for the Win (with Mark Leslie Lefebvre)
May 1, 2022 – Activated Authors Podcast with Daniel Willcocks. Mark Leslie Lefebvre ON: HEART, Passion, and Collaboration
Apr 29-May 1, 2022 – Pikes Peak Writers Conference (Colorado Springs, CO)
April 12, 2022 –

BOOK RELEASE

: Accounting for Authors (co-authored with D.F. Hart)
March 30, 2022 – Rebel Author Podcast (Guest) – Episode 131- 131 How to Write and Market an Anthology with Mark Leslie Lefebvre and Helen Glynn Jones
March 30, 2022 – Short Story Release. "The Exquisite Taste of a Book-Aged Skull" in The Rebel Diaries (edited by Sacha Black)
March 24, 2022 – Virtual Presentation – Get off the Hamster Wheel – Why your Author Success Journey should be a (relaxed) Marathon, not a Sprint. Part of The Inner Game of Writing, Creativity, and Profit
March 21, 2022 – 26 Entrepreneurs Share Their Experience On Pivoting During The Pandemic (Article)
March 6, 2022 – Virtual Presentation with Writers Community of York Region – Collaborating for Success: No Writer is an Island
March 5, 2022 – Guest on SciFi Saturday Night – TalkCast 514 – The Truth About Canadian Werewolves
March 1, 2020 – Creator Dad Podcast – Beer, Books, and Skulls with Mark Leslie Lefebvre
Feb 28, 2022 – Discovered Wordsmiths Podcast
Feb 25, 2022 – The Self-Publishing with Dale Podcast (Video) (Podcast) – "Life After Kobo Writing Life"
Feb 21, 2022 – Guest on Job Notes (Writers Corner Network) with hosts Jenna Greene and Miranda Oh (YouTube / Podcast)
Feb 18, 2022 – Guest on Panel Live Chat TBD Pirate Radio – S4E7 Superstars Writing Seminar After Action Report
Feb 12, 2022 – Audio/Podcast Review of NIGHT CRIES (mini story collection) on Book for Every Season EP IX
Feb 9, 10, 11, 12, 2022 – Superstars Writing Seminars (Colorado Springs, CO)
Nov 14-18, 2022 – 20BooksVegas (Las Vegas, NV)
Feb 9, 2022 – Guest on Let Fear Bounce Podcast with Kim Lengling
Feb 7, 2022 – Guest on House of Mystery Radio Show with Alan R. Warren & David North-Martino
Feb 4, 2022 – Guest on The Douglas Coleman Show
Feb 3, 2022 – Guest on The Writer's Block (LA Talk Radio) with Jim Christina, Bobbi Jean Bell, and Richard Paolinelli
Jan 31, 2022 – Guest on Necrocasticon Podcast – Episode 377
Jan 10, 2022 – FEAR AND LONGING IN LOS ANGELES won the Kobo Writing Life https://kobowritinglife.com/2022/01/10/2021-kwl-indie-cover-contest-and-the-winner-is/
Jan 4, 2022 – CTV News Northern Ontario: From The Big Nickle to the Big Apple. Interview with Mark about his new novel FRIGHT NIGHTS, BIG CITY by Jessica Gosselin of CTV News Sudbury (Video)
2021
Dec 29, 2021 – The Empowered Author Podcast: EP 49 – Accounting for Authors with Mark and DeAnna Hart
Dec 21, 2021 – BOOK RELEASE: Fright Nights, Big City (Canadian Werewolf series)
Dec 19, 2021 – The Worldshapers Podcast (with Host Edward Willett – Episode 99: Mark Leslie Lefebvre
Dec 10, 2021 – (2 to 4 PM & 6:30 to 8:30 PM) Cambridge Authors: Meet the Authors LIVE / IN PERSON event.
Dec 1, 2021 – "Find Your Unique Path" – An Interview on Tranquilo Retreat
Nov 28, 2021 – 8:15 AM Eastern. Live chat on Books with Bridgetti about Fear & Longing in Los Angeles
Nov 17, 2021 – 2 to 3 PM Eastern. Virtual. Burlington Literary Festival. Digital Publishing.
Nov 8, 9, 10, 11, 12, 2021 – 20BooksVegas (Las Vegas, NV)
Nov 6, 2021 – Liberty States Fiction Writers Conference -(Clark, New Jersey) Keynote Presentation: MORE POWER, MORE OPTIONS, MORE CONTROL OVER YOUR PATH TO SUCCESS
Nov 3 & 4, 2021 at 6:30 PM Eastern. Introduction to Digital Publishing. Free Virtual Two-Part Workshop.
Nov 1, 2021 – Guest on The Shift with Shane Hewitt – Link to podcast version of broadcast here (Episode 974 – What are some of the most haunted places across Canada?)
Oct 31, 2021 – Guest on Radio of Horror 93.1 FM
Oct 28, 2021 – Date with Death—Halloween ARWA Edition 2021 – Two hour Panel Discussion with active homicide detective Dave Sweet and Sarah Kades
Oct 26, 2021 – Author Spotlight Interview – Lavender Lass Books
Oct 23, 24, 2021 – (Virtual) – SelfPubCon: The Writing Craft Conference (FREE) – THE CRAFT OF WRITING SHORT BOOKS (Presentation with Matty Dalrymple)
Oct 19, 2021 – (Virtual) – Business Bootcamps for Authors – Paths to Publication: Alternatives to Traditional Publishing. 2 PM Eastern. (FREE) – Panel Discussion with: Tara Cremin, Darien Hsu Gee, Mark Leslie Lefebvre, L. Penelope,Brooke Warner, and Jane Friedman (moderator)
Oct 16, 2021 – Aurora Awards 2021 Ceremony. Mark was nominated, along with his partner, Liz Anderson, in the category for Best Relateed Fan Work for their producing and hosting of the 2020 Aurora Awards ceremony.
Oct 16, 2021 – (Virtual) – Wordsmith Institute's Sci-Fi Fantasy Writer's Conference. 2:15-3:15 – Session 4 – Publishing Pitfalls for Authors – Mark Leslie Lefebvre
Oct 15, 2021 – Uncanny Tales: Storytime for Adults. Vancouver Public Library Writer in Residence C.C. (Chris) Humphreys reads Mark's Twilight Zone style stories "That Old Silk Hat They Found" and "Browsers"
Oct 7, 2021 – Six Figure Authors Podcast. Talking with Lindsay Buroker, Joseph R. Lallo, and Andrea Pearson about THE RELAXED AUTHOR, co-authored with Joanna Penn – SFA 102 – How to Keep from Stressing out as an Author While Still Achieving Your Goals
Oct 6 & 7, 2021 – (Virtual Interactive Workshop) – 6:30 PM EST – Writing True Ghost Stories. In this two hour workshop, split out over two evenings, topics will include research, collaborating with a co-author, pitching to publishers, defining target audience, outlining and planning your project. Participants will be given a short overnight writing/planning assignment to be discussed on the 2nd day.
Oct 5, 2021 – The Indy Author Podcast – Episode 100 – Becoming a Relaxed Author with Mark Leslie Lefebvre. (Podcast) (Video)
Oct 4, 2021 – Career Author Summit – Virtual Sessions
Sept 22, 23, 24, 25, 26, 2021 – NINC 2021 (St. Pete Beach, FL) Had to cancel trip due to pandemic-related cross-border travel challenges.
Sept 21, 2021 – The Author Library Network – The Bookish Nook: Mark Leslie – Author of the Stark Publishing Solutions series
Sept 18, 2021 –

BOOK RELEASE

: The Relaxed Author: Take the Pressure off Your Art and Enjoy the Creative Journey (co-authored with Joanna Penn)
Sept 18, 19, 2021 – Career Author Summit (Nashville, TN) Had to cancel trip due to pandemic-related cross-border travel challenges.
Sept 14 (Part of Empire Builder's Summit) – Long-Term Strategies for Author Success. Interviewed by Honorée Corder.
Sept 13 to 17 (Virtual) – Empire Builder's Summit. (Free Registration)
Sept 11, 2021 – Bookish Down Under: Liz Butcher reads the Prologue and Chapter One of A Canadian Werewolf in New York
Sept 9, 2021 – Golden State Media Concepts Book Review Podcast with Sarah Meckler – Episode 304: Mark Leslie
Sept 8, 2021 – The Author Revolution Podcast with Carissa Andrews: Episode 97 – Industry Expert Interview: Mark Leslie Lefebvre
Aug 31, 2021 – Meet the Author: Mark Leslie (Burlington, ON – Virtual) – Hosted by Burlington Public Library
Aug 27, 2021 – Author of the Week with Alex Lewchuk (Southside Broadcasting) (Radio/Podcast)
Aug 24, 2021 – BOOK RELEASE: Publishing Pitfalls for Authors – An overview of the issues, challenges, hurdles and barriers that can get in the way of an author's long-term success
Aug 13 to 15, 2021 – When Words Collide (Calgary, AB) – Converted to a VIRTUAL conference due to Covid-19
Aug 12, 2021 – Host/MC of When Words Collide Festival Guest of Honour Readings (YouTube)
Aug 2, 2021 – Strategic Authorpreneur: Writing Short and Publishing Wide with Mark Leslie Lefebvre (Episode 57) (Podcast)
July 14, 2021 – Co-host (with Kevin J. Anderson) and producer of the Western Colorado University/Draft2Digital Virtual Book Launch of the UNMASKED anthology. (YouTube)
July 8, 2021 – Live chat with Jennifer Anne Gordon in Writer's Showcase for Authors on the Air. (YouTube) (Facebook) (Podcast)
June 28, 2021 – Live Chat with Nichi of Dark Between Pages (YouTube)
June 28, 2021 – Guest on Episode 100 of Unstoppable Authors Podcast. Panel discussion with hosts Angeline Trevena and Holly Lyne and Sacha Black, Daniel Willcocks, Meg Jolly, TL Clark, Julia Scott, Nathan Scammell, and Steve McHugh.
June 27, 2021 – Episode 41 of I Never Thought I Would (Present Margaret Atwood with an Award) with host Jennifer Lieberman (YouTube)
June 27, 2021 – Fresh Blood: Killing it After 40. Podcast interview.
June 13 – 2021 – SelfIT Summit (Virtual Italian Self-Publishing Summit) – Self-Publishing and Going Wide with Mark Lefebvre (YouTube Video)
June 12, 2021 – Heart of Carolina Romance Writers – Virtual Meeting June – "Wide for the Win: Successful Indie Publishing Across Multiple Platforms" 1 to 3 PM Eastern – (Non-Members can register)
June 8, 2021 – Guest on The Author Library with host Anna J. Walner (Video)
June 7, 2021 – Guest on the Going North Podcast: Tips & Techniques to Advance Yourself Episode 361 with host Dom Brightmon.
May 27, 2021 – Draft2Digital Ask Us Anything – (Mark, along with Kevin Tumlinson and Dan Wood)
May 25, 2021 – The Book Break, Season 5, Episode 15 – Discussion about WIDE FOR THE WIN and FEAR AND LONGING IN LOS ANGELES (Video)
May 22, 2021 – Words with Writers Podcast: Episode #13: Double-Feature Anniversary Special PART I – (Co-hosts Chris Gorman and Brandi Tanner bring you Part I of a double-feature anniversary special, starring Canadian Authors–Toronto members R.A. Morris, Mark Leslie Lefebvre, Andrea Scott, and Rosanna Micelotta Battigelli)
May 22, 2021 – WordSpring 2021 – Writers Federation of New Brunswick Writing Festival (Virtual) – 3 Hour Workshop – The Business of Being a Writer – 1 PM to 4 PM Atlantic time.
May 19, 2021 – Encore broadcast (Mark Leslie – Fear and Longing in Los Angeles with Alan R. Warren) on the House of Mystery Radio Show: 9 PM Pacific / Midnight Eastern – KCAA 106.5 F.M. Los Angeles/ 102.3 F.M. Riverside/ 1050 A.M. Palm Springs and streaming online at stream.kcaastreaming.com:5222/kcaa.mp3 and 5 PM Mountain Time on 540 A.M. Salt Lake City and Streaming online KYAH – Utah's Talk Authority
May 18, 2021 – Guest Article on The Book Break for Authors: How to Choose the Best Distribution Model for your eBook: Direct VS Third Party
May 14, 2021 – Live Chat: The Write Stuff Storybundle. Mark chats with fellow authors: Loren Coleman, Michael Lucas, Stefon Mears, Johanna Rothman, and Dean Wesley Smith (YouTube)
May 13, 2021 – Authentic Business Adventures with host James Kademan – Episode 164: How to Make Money as an Author with Mark Leslie Lefebvre. Podcast / Video
May 13, 2021 – Chatting With Sherri welcomes author and professional speaker, Mark Leslie! (Podcast Episode)
May 10, 2021 – Scribble's Worth Reviews – "Raw, Precise, Unbiased" review of Fear and Longing in Los Angeles
April 19, 2021 – Guest on The Creative Penn Podcast Hosted by Joanna Penn: Episode 546 – Global, Wide Self-Publishing with Mark Leslie Lefebvre
April 17, 2021 – SCI-FI Saturday Night – TalkCast 478 – There Wolf! (Interview about Fear and Longing in Los Angeles)
April 16, 2021 – 9 PM Pacific / Midnight Eastern – KCAA 106.5 F.M. Los Angeles/ 102.3 F.M. Riverside/ 1050 A.M. Palm Springs – House of Mystery Radio Show (Mark Leslie – Fear and Longing in Los Angeles)
April 14, 2021 – Celebration of SECRETS & LIES StoryBundle (Video)
April 13, 2021 – Live Virtual Reading: The Shadow Men (Video)
April 10, 2021 – Review (Audio) of Fear & Longing in Los Angeles, Stowe Away, and A Canadian Werewolf in New York on The Stuph File Program #608 – Begins around 39:30 in the Book Banter segment with Stuart Nulman.
April 9, 2021 – Fresh Starts: Tales from the Pikes Peak Writers – Anthology Launch Celebrate. Video – Mark interviews Joshua Clark, Bowen Gillings, Terry Odell
April 1, 2021 – Instant Multi-Platform Sales Reporting with ScribeCount – Draft2Digital Self-Publishing Insiders (Video Interview – Mark interviews Philippa A. Werner, Director of Strategic Partnerships and the public face of ScribeCount)
April 1, 2021 – Online for Authors Special Edition: Wide for the Win Featured Guest Interview with Mark Leslie Lefebvre (Podcast)
March 31, 2021 – Guest on The Inner Enlightenment Show (Author Edition) with Lauri Schoenfeld (Video)
March 31, 2021 – Guest Host on Episode 365 of Sell More Books Show with Bryan Cohen (Podcast)
Mar 26, 2021 – Feature Interview with Jean the Book Nerd about Fear and Longing in Los Angeles (Article/Text)
Mar 24, 2021 – Live Chat in 20Booksto50K Facebook Group with Craig Martelle: Going Wide with Mark Leslie Lefebvre (Video)
March 23, 2021 – BOOK RELEASE: Wide for the Win: Strategies to Sell Globally via Multiple Platforms and Forge Your Own Path to Success (Video of Virtual Launch Celebration)
Mar 21, 2021 – Guest on Alive After Reading (EP 206) with Tim Niederriter (Podcast)
Mar 20, 2021 – Appearance on Episode #0605 of The Stuph File Program with Peter Anthony Holder (Podcast)
Mar 20, 2021 – Virtual presentation to Sisters in Crime (New England Chapter) on strategies for leveraging short fiction as an author.
Mar 18, 2021 – The Rebel Author Podcast – Interviewed by Host Sacha Black on How to Sell More Books Wide (Video/Podcast)
Mar 14, 2021 – Just Joshing Podcast Episode 518: Mark Leslie Lefebvre
Mar 12, 2021 – The Story Artist Podcast: How to publish wide and exploit revenue streams – with Mark Leslie Lefebvre (with Host Diana Wink)
Mar 9 & 23, 2021 – Presentation/Workshop: Techniques for Self-Editing and Revision. Brantford Public Library (Virtual), Brantford, ON
Mar 8, 2021 – Prime Time Local News CKSA with Jace Maki – See Clip on YouTube
Feb 23, 2021 – Naked at Noon show with The Naked Podcaster. Jenn Taylor interviews Mark in an hour long discussion in a video chat (where both Jenn and Mark are naked – literally and figuratively) called: Best-Selling Author, Rejection, Divorce, Starting Over, and Falling In Love with Mark Leslie
Feb 23, 2021 – BOOK RELEASE: Fear and Longing in Los Angeles

Book 2 in the "Canadian Werewolf" series.

Feb 18, 19, 20, 2021 – Superstars Writing Seminars (Colorado Springs, CO) [2021 event cancelled due to Covid-19. 2022 event will resume. ]
Feb 15, 2021 – The Unexplained with Howard Hughes. Edition 519 with Mark Leslie – Podbean / Apple / Google / Podbay / Spotify
Feb 4, 2021 – The Writer's Block on LA Talk Radio – Interview with Jim Christina and Bobbi Jean Bell
Jan 30, 2021 -Episode 109 of Writers & Illustrators of the Future Podcast: Canadian Author Mark Leslie Lefebvre on Passion and Werewolves
Jan 29, 2021 – The ScribeCount Podcast Episode 3 – Success and the Future of Publishing with Mark Leslie Lefebvre
Jan 26, 2021 – The Indy Author Podcast Episode 063 – Wide for the Win with Mark Leslie Lefebvre
Jan 22, 2021 – SF Canada Interview with Derek Newman-Stille: "Interview with Mark Leslie (Lefebvre) on Writing Werewolves and Haunted Houses"
Jan 21, 2021 – Quill & Ink/Authors on the Air Episode 42 – Chat with hosts Jenna Greene & Miranda Oh.
Jan14, 2021 – Draft2Digital Self-Publishing Insiders Live: Author Goal Setting and Planning – with Kevin Tumlinson
Jan 10, 2021 – The Douglas Coleman Show (Video Interview)
Jan 7, 2021 – Quoted in Article: The Top Ten Publishing Trends Every Author Needs to Know
Jan 6, 2020 – Sharing Broadband Streams / Collaborative Project Launch
2020
Dec 28, 2020 –Talking Fiction Obsessions with Mark Leslie – Interview on Book Lights with Lisa Kessler
Dec 19, 2020 – Virtual Presentation on Digital Publishing to David Farland's Apex-Writer's Group
Dec 18, 2020 – Interview with Caramel Lucas on Keepin It Real w/Caramel "As We Say 100"
Dec 18, 2020 – Interview along with Peter C. Mitchell, author of Rude Awakenings from Sleeping Rough by Alex Lewczuk, of Siren Radio / Southside Broadcasting.
Dec 16, 2020 – Story Studio Podcast (Guest) – State of the Industry with Mark Lefebvre from Draft2Digital
Dec 8, 2020 – You've Written A Book, Now What? (Virtual presentation with Susie Moloney, Writer in Residence at Edmonton Public Library)
Dec 7, 2020 – Teen Writer's Night with author Mark Leslie (Virtual event) – Eastern Monroe Public Library / Teen Programs (Stroudsburg, PA)
Dec 4, 2020 -PTLN News – Guest along with Peter C. Mitchell author of Rude Awakenings from Sleeping Rough
Nov 19, 2020 – Draft2Digital Special ASK US ANYTHING about new feature: Payment Splitting
Nov 18, 2020 – Mark signed a deal with and is now represented by Creative Edge Publicity
Nov 17, 2020 – Livres Canada Books – Print-on-Demand as an Export Tool (English webinar) – FREE Webinar / Registration Required
Nov 7, 2020 – SFFCon – Podcasting Panel – Panelists: James S. Aaron (moderator), Josh Hayes, Lauren Moore, Mark Leslie Lefebvre, Tom Merritt (Watch on YouTube)
Nov 4, 2020 – Guest on Just Joshing Podcast – Episode 442
Oct 29, 2020 – Draft2Digital ASK US ANYTHING with Dan Wood, Kevin Tumlinson, and Mark Leslie Lefebvre
Oct 28, 2020 – Creepy Halloween Reading with Nancy Kilpatrick. Mark introduces Nancy Kilpatrick who does a short story reading and then briefly interviews her about her writing.
Oct 27, 2020 – Waterloo Public Library (Writing Ghost Stories)
Oct 26, 2020 – CTV News Sudbury
Oct 25, 2020 – Sudbury Star: Authors team up for six spooky, Sudbury-themed stories
Oct 21, 2020 – What's Power Got To Do With It? Mark interviews author and consultant Cate Collins about her new book THE POWERHOUSE IN YOU.
Oct 21, 2020 – 900 CHML / Global News – Online party, virtual ghost walks among the alternate options for Halloween in Hamilton
Oct 20, 2020 – Book Release: Strange Sudbury Stories (Short story collection co-authored with Sean Costello and Scott Overton)
Sudbury.com Article: Three Sudbury authors release collection just in time for Halloween
Oct 16, 2020 – Book Release: Too Macabre for Montreal: Tales Deemed Too Disturbing for MACABRE MONTREAL – non-fiction true crime co-authored with Shayna Krishnasamy
Oct 6, 2020 – Wish I'd Known Then . . . For Writers Podcast: Mark Leslie Lefebvre on Thinking Beyond the eBook.
Oct 1, 2020 – Draft2Digital Live: Self-Publishing Insiders – Mark interviews author M.L. Buchman
Oct 1, 2020 – 20Booksto50K® Live chat with Craig Martelle – Mark Leslie Lefebvre & D2D state of the industry
Sept 29, 2020 – Waterloo Public Library (Virtual Workshop) – Basic Book Marketing Strategies for Writers
Sept 24, 2020 – NINC (Novelist's Ink) – Draft2Digital Presentation. Self-Publishing: The Evolution will be Digitized (Virtual presentation in collaboration with Kevin Tumlinson and Dan Wood)
Sept 21 – Sept 24, 2020 – Fiction Marketing Academy Free Online Event – Mark will be presenting, as part of 30 other industry pros speaking for this event, on day 4 (Sept 24th) on Leveraging Short Fiction for Additional Revenue and Marketing. Register here.
Sept 22, 2020 – Waterloo Public Library (Virtual Workshop) – Step by Step Digital Publishing – How to Get your eBook Published into the Global Market
Sept 24, 2020 – Leveraging Short Fiction for Additional Revenue and Marketing (Part of the Fiction Marketing Academy free online event from Sept 21 to 24)
Sept 15, 2020 – Waterloo Public Library (Virtual Workshop) – Learning About Publishing Options for Writers. Is DIY Digital Publishing for me?
Sept 11, 2020 – Draft2Digital Live: Ask Us Anything. Mark, along with Kevin Tumlinson and Dan Wood answering author questions live.
August 27, 2020 – Draft2Digital Live: Self-Publishing Insiders Video chat featuring Mark and Kevin Tumlinson: "The Author Industry Inside Out"
August 22, 2020 – "Authors in Quarantine: Mark Leslie Lefebvre" interview on Speculating Canada: Canadian Horror, Science Fiction, and Fantasy
August 21, 2020 – Mell & Chris in the Morning – Q92 Rock – FM Radio / Sudbury
August 19, 2020 – Draft2Digital Live: Self-Publishing Insiders Video chat. Mark interviews Erin Wright of WIDE FOR THE WIN
August 18, 2020 – BOOK RELEASE: STOWE AWAY – Book 1.5 in the Canadian Werewolf series released in hardcover, trade paperback, eBook, and audiobook
Aug 16, 2020 -The Sudbury Star online (from an Aug 15 print article) – Levack Author Reflects on how Sudbury shaped his latest book
Aug 15, 2020 – Host of the 2020 Aurora Awards Ceremony (Virtual Event Live Stream)
Aug 14, 15, 16, 2020 – When Words Collide (Calgary, AB) – Adapted to Virtual Conference due to Covid-19
Aug 14, 2020 – Episode 502 of The Creative Penn Podcast – AI and Creativity Update: A Voice Double Conversation Featuring Joanna Penn and Mark Leslie Lefebvre
Aug 14, 2020 – Draft2Digital Self Publishing Insiders Live Video chat. Mark interviews Marta Sprout – Thrillers with Law Enforcement Insider Marta Sprout.
Aug 10, 2020 – Guest on UNSTOPPABLE AUTHORS Podcast with Holly Lyne – Episode 4.17 – Author Branding and Getting into Libraries and Bookstores with Mark Leslie Lefebvre
Guest on BEST BOOK EVER PODCAST with host Julie Strauss – Episode 9 – Talking about Earth Abides by George R. Stewart
July 30, 2020 – Self Publishing Insiders with Draft2Digital – Ask Us Anything, Mark with Kevin Tumlinson and Dan Wood
July 22, 2020 – Self Publishing Insiders with Draft2Digital – Mark interviews Chris Humphreys – Being a Hybrid Author, Actor, and Narrator
July 14 though 21, 2020 – Western Colorado University Publishing MA class – guest speaker
June 30, 2020 – Guest on Bigfoot and the Bunny – Live to Broadcast and YouTube Stream (9 PM Eastern)
June 30, 2020 – Self Publishing Insiders with Draft2Digital – Mark interviews Luanga 'Lue' Nuwame – Comics, Cardboard, and Crafts
June 29, 2020 -Guest on The Midnight Society – Midnight.FM: Where it's always Midnight™ Live Streaming Broadcast (10 PM to 1 AM Eastern)
June 16, 2020 – Hamilton Public Library (Virtual) (Hamilton, ON) – Talk about Haunted Hamilton and Haunted Hospitals
June 11, 2020 – The Richard Spasoff Show with Mark Leslie, Canadian Author (Ghost Stories) Episode 66.
June 11, 2020 – The Career Author Podcast – Episode 130 – The Publishing Industry Panel – Publishing experts and leaders from Kobo, Google Play, Draft2Digital, Reedsy, and Vellum explore the future of publishing in this unique and enthralling panel discussion.
June 8, 2020 – Draft2Digital Spotlight: Mark interviews Scott Overton
June 6, 2020 – InkersCon – Office hours with authors and a virtual presentation: "12 Things You Likely Didn't Know About Draft2Digital"
June 5, 2020 –Coast to Coast AM with George Noory – Haunted Hospitals / Open Lines (Midnight to 3 AM Eastern)
June 5, 2020 – Draft2Digital Spotlight: Mark interviews Matty Dalrymple.
June 4, 2020 – The Career Author Podcast – Episode 129 – An Hour with Draft2Digital (featuring Mark, Kevin, and Dan – from an appearance at the 2020 Career Author Summit)
June 3, 2020 -Guest Host Spot on Episode 178 of The Writer's Well (Mark co-hosts with Rachael Herron, playing the role of J. Thorn, but with a LOT less hair)
June 3, 2020 – Draft2Digital Spotlight: Mark interviews Richard H. Stephens
June 2, 2020 – Draft2Digital Spotlight: Mark interviews Mark O'Neill
May 29, 2020 -Draft2Digital Spotlight: Mark interviews Alessandra Torre
May 28, 2020 – Draft2Digital Spotlight: Mark interviews Dale L. Roberts
May 27, 2020 – Canadian Authors & SF Canada Webinar Series: Leveraging Your IP and Maximizing Income in a Digital World (Virtual)
May 27, 2020 – Draft2Digital Spotlight: Mark interviews Rachael Herron
May 21, 2020 – Draft2Digital Spotlight: Mark interviews editor Joshua Essoe
May 20, 2020 -Alliance of Independent Authors #IndieAuthorChat (Virtual)(Twitter) – Creating Income from Short Fiction
May 20, 2020 – CHCH Morning Live (Short Clip) – Isolation Parodies
May 19, 2020 – Draft2Digital Spotlight: Mark interviews T.W. Piperbrook
May 18, 2020 – Draft2Digital Spotlight: Mark interviews Jeff Elkins
May 16-17, 2020 – The Career Author Summit (Nashville, TN) – Modified to a virtual conference due to Covid-19
May 15, 2020 – Draft2Digital Spotlight: Mark interviews Travis Heermann
May 14, 2020 – CTV News Northern Ontario – Northern couple finds way to spread a bit of joy during isolation
May 13, 2020 – Draft2Digital Spotlight: Mark interviews D2D insider Elyssa Dolinger
May 12, 2020 – Draft2Digital Spotlight: Mark interviews Robert J. Sawyer
May 11, 2020 – CTV News Ottawa – On The Bright Side
May 8, 2020 – Draft2Digital Spotlight: Mark interviews Jeff Adams and Will Knauss
May 6, 2020 – Draft2Digital Spotlight: Mark interviews Melissa Dalton Martinez
May 5, 2020 – Draft2Digital Spotlight: Mark interviews Sacha Black
May 1, 2020 -Draft2Digital Spotlight: Mark interviews Terry Odell
April 20, 2020 -Draft2Digital Spotlight: Mark interviews Michael and Judith Anderle
April 8, 2020 – 7:30 PM Eastern – Virtual Reading/Talk – via StageIt – Weird Fiction Wednesday. (COST: Pay What You Can)
April 22, 2020 – CTV News Ottawa – On The Bright Side
April 22, 2020 – 1 PM Eastern – Online Class – 1 Hour – hosted by Jane Friedman – Creating Income and Connecting with Readers Using Short Fiction (Cost $20 USD)
April 17, 2020 – Draft2Digital Spotlight: Mark interviews Jane Friedman
April 15, 2020 – Draft2Digital Spotlight: Mark interviews Terry Fallis
April 13, 2020 – Draft2Digital Spotlight: Mark interviews Kevin J. Anderson
April 9, 2020 – Draft2Digital Spotlight: Mark interviews Zach Bohannon
April 8, 2020 – Draft2Digital Spotlight: Mark interviews J. Thorn
April 7, 2020 – Draft2Digital Spotlight: Mark interviews Dean Wesley Smith
April 4, 2020 – Liberty States Fiction Writers Conference (Keynote) (Clark, NJ) – Postponed to Oct 2020 due to Covid-19

April 3, 2020 – The Indy Author Podcast – Working with Libraries & Bookstores with Mark Lefebvre (Podcast Interview)
April 3, 2020 – Draft2Digital Spotlight: Mark interviews Carolyn Robertson of BookBub
April 1, 2020 – Draft2Digital Spotlight: Mark interviews Cory Alderin of BookBrush!
March 30, 2020 – The Creative Penn Podcast Episode 482 – How to Get Your Book into Libraries and Bookstores with Mark Leslie Lefebvre (Podcast Interview)
March 24, 2020 – The Rebel Author Podcast – How to Get Your Book into Libraries with Mark Lefebvre (Podcast Interview)
March 19, 2020 – Draft2Digital Live: Ask us Anything. Mark, Kevin Tumlinson, and special guest Dave Chesson
March 14, 2020 – Self-Publishing Advice Conference Spring 2020 (Virtual Conference-Content still available to Alli Members)
March 10, 11, 12, 2020 – London Book Fair (Industry Rep – Draft2Digital) (London, UK) – BOOK FAIR CANCELLED due to Covid-19

Feb 29, 2020 – Talk with Grand River Romance Writers – Idea Exchange (Cambridge, ON)
Feb 28, 2020 – Draft2Digital Live: Ask us Anything. Mark, Kevin Tumlinson, and Dan Wood
Feb 21 – 26, 2020 – WMG Publishing Anthology Workshop (Editor) (Las Vegas, NV)
Feb 8, 2020 – WordBridge Writing Conference (Virtual Appearance) (Lethridge, AB)
Feb 6 – 8, 2020 – Superstars Writing Seminars (Confirmed Guest Instructor) (Colorado Springs, CO)
Feb 4, 2020 – Book release: Taking the Short Tack:
Creating Income and Connecting with Readers Using Short Fiction (co-authored with Matty Dalrymple)
Jan 23, 2020 -Draft2Digital Live: Jan 2020 (Mark with Kevin Tumlinson and Dan Wood)
Jan 17, 2020 – Article / CTV News Northern Ontario – "Aliens and adventurers get their 'geek' on at Sudbury Graphic-Con" by Lloyd Evans
Jan 6, 2020 – Productivity for Authors in 2020 (Webinar/Panel Discussion)
2019
Dec 16, 2019 – D2D Live Webinar – Working with Libraries & Bookstores (Oklahoma City, OK)
Dec 10, 2019 – Book Release: An Author's Guide to Working with Bookstores and Libraries
Dec 8, 9, 10, 2019 – CAPS Convention (Meet the Experts) (London, ON)
Nov 28, 2019 –Sudbury Writers' Guild (Sudbury, ON)
Nov 27, 2019 -Draft2Digital Live: Ask us Anything (Mark with Kevin Tumlinson and Dan Wood)
Nov 21, 2019 -Six Figure Authors Episode 13 – How to Successfully Sell Wide (Beyond Amazon) with Mark Lefebvre (Podcast)
Nov 11 – 15, 2019 – 20Booksto50K (Industry Rep – Draft2Digital)(Las Vegas, NV)
Nov 9, 2019 – Swirleez Speaker Series: "

To Publish or Self-Publish and going Digital"

– FREE to Attend! Part of a weekly series every Saturday in November – Facebook Event Page – (Barrie, ON)
Nov 4, 2019 – Guest on Just Joshing Episode 306 with Joshua Pantalleresco (recorded at When Words Collide August 2019)
October 25 – 30, 2019 – Business Master Class (Instructor)(Las Vegas, NV)
October 17, 2019 – Draft2Digital Live: Ask us Anything Audiobook Edition. Mark, Kevin Tumlinson, and special guest Will Dages from Findaway Voices
Oct 9, 2019 – Guest on The Book Break (Season 2, Episode 5) with Melissa Dalton (recorded at Superstars Writing Seminars Feb 2019)
Sept 25 to 29, 2019 – Novelists, Inc (St Pete, FL)
Sept 20, 2019 -Toronto Romance Writers / Northern Hearts
Sept 20, 2019 – Draft2Digital Live: Ask us Anything. Mark, Kevin Tumlinson, and Tara Robinette
Sept 13, 2019 – Bestival Reads, part of Belmont Village Bestival (Kitchener, ON)
Sept 3, 2019 – Draft2Digital Live: From Oklahoma City, D2D's Office: Mark, with Kevin Tumlinson and Dan Wood
Aug 17, 2019 – Millpond Records and Books (Cambridge, ON) – Book signing
Aug 16, 2019 – In Studio with Kevin on CKWR 985 FM in Kitchener, ON
Aug 15, 2019 – Guest on Episode 187 of The Self Publishing Show (with Mark Dawson and James Blatch) – The 7 P's of Publishing Success
Aug 9, 10, 11, 2019 – When Words Collide (Calgary, AB)
July 30, 2019 – Draft2Digital Live: Ask us Anything. Mark with Kevin Tumlinson and Dan Wood
July 2, 2019 – Draft2Digital Live: Ask us Anything – Premier Video in the series. Mark with Kevin Tumlinson and Dan Wood
July 1, 2019 – Guest on Episode 27 of the Am Writing Fantasy Podcast: How to Sell Books on Kobo
June 29, 2019 – The Book Express (Multi-Author Book Signing) (Cambridge, ON)
June 8, 2019 – Graphic-Con (Sudbury, ON)
May 29, 30, 31, 2019 – BEA (Book Expo America) – (New York, NY)
May 1 & 2, 2019 – Rock Apocalypse (Cleveland, OH)
April 22, 2019 -Guest on the Phantom Faction Podcast Episode 38 talking about Haunted Hospitals and other haunted locations from various books.
Apr 4, 2019 – Guest on the Books and Travel Podcast Episode 6 with host Jo Francis Penn talking about Macabre Montreal
Mar 1 to Mar 6, 2019 – WMG Publishing Fiction River Anthology Workshop (Editor/Panelist) (Las Vegas, NV)
March 16, 2019 – Self-Publishing Advice Conference (VIRTUAL – Free to register): "Reaching Readers Both Wide & Global" (Interview Style)
Feb 7 to 9, 2019 – Superstars Writing Seminars – (Colorado Springs, CO)
2018
Dec 23, 2018 – The Creative Penn Podcast – Episode 408 – Tips for Long Term Publishing Success with Mark Leslie Lefebvre
Dec 10, 2018 – CAPS Convention 2018 – Successfully Navigating Your Publishing Goals (Vancouver, British Columbia) – See Video About this talk (For CAPS Convention attendees only)
Dec 5, 2018 – Kobo Publishing: Get Your Book Featured (Reedsy Webinar)
Nov 6 & 7 – 20BooksVegas via 20Booksto50K – (Las Vegas, NV)
Nov 1 – ImagineIT: Success in Publishing. Workshop/Panel Discussion on Publishing Options (Kitchener Public Library) – [LIBRARY CANCELLED THIS EVENT]
Oct 29 – SFU Writer's Studio – Lecture. (Private lecture for SFU Creative Writing Class)
Oct 19 thru 27 – WMG Publishing Master Class (Instructor/Presenter/Speaker) (Las Vegas, NV)
Oct 13 & Oct 14 – Hamilton Comic Con (Mark Leslie/Stark Publishing Author Table)
Oct 5 to 7 – Montreal – Various Venues for launch of Macabre Montreal
Sept 26 through 30 – NINC Conference (St. Petes, FL)
Sept 14, 2018 – 7:00 PM – Talk and Q&A Hamilton Ghost Stories at Supercrawl
Summer 2018: Ainsley Woods Community Market – Author/Vendor Table – Grain & Grit Beer Co. (Hamilton, ON) – July 7 / July 21 / July 28
August 10 through 12 – When Word Collide: A Festival for Readers and Writers (Various)
August 2 – Capreol Centennial Book Launch (Matthew Del Papa) – Appearing as special guest
May 31 –Guest on Cashing in on Creativity Podcast with host Bruce Outridge
May 12 – SFU Writer's Studio – Lecture. (Private lecture for SFU Creative Writing Class)
April 4, 2018 – Guest on Patricia McLinn's AUTHORS LOVE READERS Podcast – Finding Inspiration in Everything, with Mark Leslie
March 27, 2018 New Directions in Self-Publishing (Talk/Panel) hosted by Editors Toronto and the Toronto chapter of the Professional Writers Association of Canada (PWAC) – [FREE for PWAC and Editors Canada members. Otherwise Otherwise, Tickets are $5 for students, $10 for non-members registering online, $15 at the door. See link above for details
March 19, 2018 – It's Write Now Interview: Author Interview with Mark Leslie of 'A Canadian Werewolf in New York'
Feb 24 through March 3, 2018 – WMG Publishing Fiction River Anthology Workshop (Lincoln City, OR) – (Relatively recent blog post mentioning this)
February 16, 2018 – Guest on Episode 125 of The Creators Cast Podcast with Scott King
February 13, 2018 – 7:00 to 8:30 PM – Talk at Toronto Public Library, Toronto Reference Library, Beeton Hall (Toronto, ON, Canada) in the "Thought Exchange" series on Haunted Hospitals.
February 1 to 3, 2018 2018 – Guest Instructor at Superstars Writing Seminars (Colorado Springs, CO, USA)
December 19, 2017 – "Transition Time Can Be Fun" – The Inner Dominatrix Podcast Episode 77
December 6, 2017 – "Life After Kobo" – Interview on The Self Publishing Podcast Episode 292
November 19, 2017 – "Interview – Author Mark Leslie" – We Got The Geek Podcast
CHCH Morning Live Appearance Talking About Haunted Hospitals – Oct 2017
OLDER MEDIA LINKS/APPEARANCES
A Super Brief History of Publishing. Clip from a keynote given at Writers of the Future in Los Angeles, 2014 (Approx 2 mins)
Reflections on Digital Publishing – Interview Clips from Ontario Writers Conference (2013) -(Approx 4 mins)
"Getting Publishing with Mark Leslie" – (The Writing Show Podcast)
11 Episodes from Oct 9, 2006 to June 3, 2010 – Following the progress of the early part of the first draft of A CANADIAN WEREWOLF IN NEW YORK
http://www.writingshow.com/articles/reality_shows/indexes/seriesindexML.html
This is an excellent series to listen to if you are a writer who has been struggling to get that first book finished. It might help you see that you're not the only one who has suffered and struggled. It's tough and it's a lot of work, and sometimes it takes a lot of effort to overcome the things that prevent you from finishing that book. (And you can see, in the 4+ years that these episodes span, I found virtually every excuse in the book)