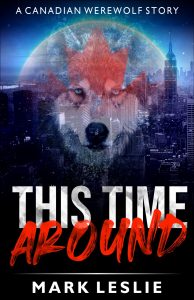 This Time Around (A Canadian Werewolf Story) – Canadian Werewolf #0
CAUGHT BETWEEN THE MOON AND NEW YORK CITY.
Being a werewolf isn't all about howling at the moon. Or running carelessly through boundless fields feeling the wind in your fur.
Not when you live in the most populous city in the US. For Michael Andrews, a Canadian living in Manhattan and afflicted with lycanthropy, there are odd side effects to being a werewolf in the middle of a bustling metropolis. Such as waking up naked in Battery Park with absolutely no memory of the night before as a wolf and trying to figure out why there is a bullet hole in his leg.
Just another day in the life of a man living with the odd side effect of his werewolf affliction.
(This 10,000 word short story is the original short story that eventually inspired the full length Mark Leslie Novel: A Canadian Werewolf in New York)
AVAILABLE in eBook (free on MOST platforms), Audiobook, Trade Paperback, and Hardcover
Listen to the entire story for FREE on YouTube
---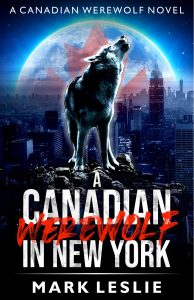 A Canadian Werewolf in New York – Canadian Werewolf #1
ALPHA WOLF. BETA HUMAN. BIG APPLE.
Michael Andrews seems to have it all. He's a successful author and a minor celebrity living in Manhattan. It's a pretty big step up from his humble Canadian upbringing. Of course, his lycanthropy poses a bit of a challenge.
After waking up from his latest night of howling at the moon, he's naked, he's got a bullet hole in his leg, and he has a sneaking suspicion he ran into another wolf last night. A wolf that was stomping all over his home turf.
If he's going to make an evening talk show appearance to promote his latest book, he'll need to figure out what happened the previous night without letting his occasional heroics sidetrack him. Standing in his way are an agent, an ex-girlfriend, a variety of goons, and a fellow wolf encroaching on his territory.
It's just another day in the life of a polite, small-town Canadian trying to stay alive in the Big Apple.
AVAILABLE in eBook, Audiobook, Trade Paperback, and Hardcover
BUY DIRECT FROM AUTHOR: eBook / Audiobook
---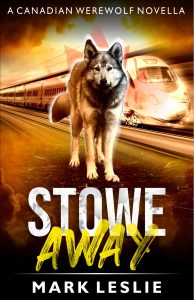 Stowe Away (A Canadian Werewolf Novella) – Canadian Werewolf #1.5
HOW DO YOU KEEP AN INNOCENT CHILD SAFE FROM A PREDATOR WHEN YOU HAVE NO CONTROL OVER THE BEAST THAT ASSUMES CONTROL OF YOU?
A train bound for Vermont leaves Manhattan at 11:35 AM. It takes approximately 9 hours to arrive. Sunset at the arrival destination occurs at 8:20 PM.
How does Michael Andrews, a man on that train who is afflicted with a werewolf curse, resolve the fact that the math just doesn't work out in his favor? Or in favor of the young girl who is trapped, and cornered?
Michael's unequivocal desire to help usually thrusts him into the middle of tight spots. And though he has never been good at math, he is consistently good at compounding the peril in his day.
On an urgent and last minute trip to help a dear friend in need, he finds someone else to help along the way. Can Michael figure out how he'll be able to protect his young, innocent traveling companion as she tries to make her own cross-country escape from the predator who relentlessly stalks her? And does this curious child hold her own answers that can, in turn, help Michael?
In a tale that has been described as Logan meets Planes, Trains and Automobiles, Mark Leslie has crafted a thrill-ride that explores Michael Andrews, Alpha Wolf and Beta Human as he embarks on a life-altering road trip that sends him hurtling towards his own psyche as it brings him miles away from his familiar home territory.
Available in eBook, Audiobook, Trade Paperback, and Hardcover
BUY DIRECT FROM AUTHOR: eBook / Audiobook
---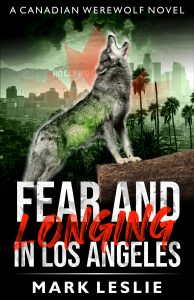 Fear and Longing in Los Angeles – Canadian Werewolf #2 (Feb 2021)
WELCOME TO THE JUNGLE
If New York is the city that never sleeps, then L.A. is the city where you have to sleep with one eye open.
Michael Andrews learns quickly that it's not just the cut-throat world of Hollywood you need to fear. There's something deeper, darker, and far more disturbing lurking just beneath the shadows of the city, waiting for any moment of vulnerability to grab you by the throat.
An extended trip to Los Angeles to be on set for the movie adaptation of his latest novel leads Michael into a twisted and macabre underworld where he becomes entangled with an intriguing, sexy, and mysterious woman. At times she seems just what he needs in order to finally get over the unrequited love of his ex-girlfriend; but at other times, she appears to be the gateway to a Pandora's box of B-movie nightmares.
Can he trust her? Can he trust himself with her?
Michael's supernatural wolf-enhanced powers and special abilities might not be enough to survive this particular harsh and gritty jungle and the unique and deadly predators that crawl out of the shadows.
Available in – eBook, Audiobook, Trade Paperback and Hardcover
BUY DIRECT FROM AUTHOR: eBook, Audiobook
---
Fright Nights, Big City – Canadian Werewolf #3 (Dec 2021)
STOP SPREADING THE NEWS
THERE'S NO LEAVING TODAY
Not when the Big Apple comes under attack from an infectious worm threatening to rot it, and the entire nation, to the core.
Michael Andrews thought he'd found the perfect woman. A companion whose own powers neutralize his werewolf curse and bringing the balance he's always wanted. But his plans on settling down and giving up the vigilante lifestyle are fleeting.
The hatred, the fear, and the monstrous attacks on innocent civilians are growing and spreading as supernatural monsters roam the city streets at night. The neo-Nazi Proud Fighters for America, aware of the special abilities that Lex possesses, track her down and plan on leveraging her powers for their own nefarious purposes.
With Michael's powers nullified in Lex's presence, the couple is forced to divide in their attempt to conquer, and Michael turns to his ex-girlfriend and her knowledge of the occult world in order to understand how to fight this rising evil.
But will two supernatural forces of good operating separately and one paranormal scholar be enough to vanquish the growing legion of evil?
Available in eBook, Trade Paperback, Hardcover and Audio
BUY DIRECT FROM AUTHOR: eBook
---
Lover's Moon – Canadian Werewolf #3.5 (May 2022)
HE'S AN ALPHA WOLF AND A BETA BOYFRIEND
SHE'S DATED EVERY MONSTER IN NEW YORK CITY
IT'S TIME FOR THEIR MEAT-CUTE
Michael Andrews, a Canadian living in New York, is learning to live with the side effects of lycanthropy. Other than waking up naked and bloody in Central Park once a month, he's managing just fine. If only he could finish the book he's supposed to be writing. If only he could find someone he trusted enough to tell the truth to.
Gail Sommers may not have her love life in order, but at least she's smart about things that really matter. She runs the coolest occult shop in the city, and is a pre-eminent scholar of the occult. She's made a vow of celibacy so that she can spend this year focusing on her work and her self-care. She's even been hired to help out a very famous and very sexy horror author.
As a new era in the Canadian Werewolf saga begins, Lover's Moon flashes back to the romantic and comedic story of how Michael and Gail met and fell in love back in the summer of 2011. Told through both Michael and Gail's unique perspectives, it also explores Gail's past, introduces new characters, and reveals some of the deeper secrets of both of their lives.
A special Canadian Werewolf tale co-authored by Mark Leslie and contemporary romance author Julie Strauss.
Available in eBook, Trade Paperback, Hardcover and Audio -ALSO: Podcast available: Read by the authors
BUY DIRECT FROM AUTHOR: eBook
---
HER LOVE WILL BRING ABOUT HIS DEMISE
Michael Andrews and Gail Sommers have finally found the love that had eluded them for so long.
But their romance has uncovered an ancient evil curse neither of them could have anticipated. It does more than bring down a plague on their houses – it unleashes something far more sinister that can destroy humanity.
Now they must choose: battle the evil forces out to destroy them, or continue to meet in secret while the rest of the world burns.
If you like thrilling action, paranormal adventure, and quirky humor, you'll love Hex and the City. Read it today!
---
Check out the series on Bookshop.org, Amazon, or request it at your local bookstore or library.