You HAD to push the button anyway, didn't you?
LOL, I love that you just had to test it out.
Well, if you're that cool, you deserve something free.
Want an ePub version of my book THE 7 P's OF PUBLISHING SUCCESS? Check it out below. If not, then just email me (mark@markleslie.ca) and let me know what you WOULD like.
---
FREE eBook from Mark
(Available on Kindle, Kobo, Apple, Nook, etc thanks to Bookfunnel's great "Tex" support)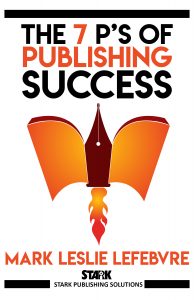 The 7 P's of Publishing Success is a look at the common traits and strategies that the most successful authors use. It uses examples from both traditional publishing and self-publishing to outline how Practice, Professionalism, Patience, Progression, Persistence, Partnership, Patronage (and even a bonus P: Promotion) can help guide you on your writing and publishing journey.
Click here to download The 7 P's of Publishing Success for free via Bookfunnel.
Please consider leaving an HONEST review on the eBook retailer of your choice. THANKS.