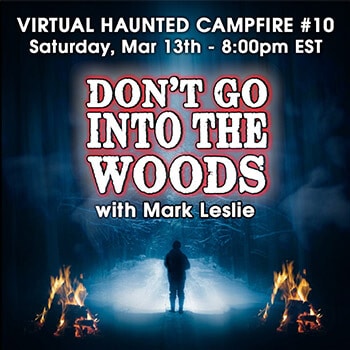 Thanks for attending the Virtual Haunted Campfire on March 13, 2020
Please find your free downloads below:
---
BUMPS IN THE NIGHT is a collection of four short stories perfect for either sharing around a campfire or reading while on a vacation or sleepover.
ERRATIC CYCLES involves a man stranded on an abandoned highway in Northern Ontario, forcing him to face his childhood fears of the wilderness after dark.
ALMOST draws upon one of the most beloved classic campfire tale situations with a bizarre new twist.
In THE PIZZA MAN, four students keep getting pizza deliveries that they never ordered. Is it a strange prank, or is there something more to the mysterious man who keeps showing up at their door?
THE SHADOW MEN was specifically crafted to be read around a campfire. Pay no attention to those strange noises and bumps in the night taking place while this story unfolds. It's likely only the Shadow Men.
Click here to download a copy of BUMPS IN THE NIGHT
---
Snowman Shivers is available in eBook, print and audio formats.
During the Haunted Walks presenation, Mark read "That Old Silk Hat They Found" but the book contains another snowman story and a history of anthropomorphic snow creations
The eBook is FREE on most retail platforms.
(Unfortunately, Amazon doesn't allow it to be free, so it might be 99 cents. But go ahead and complain to them that it's free on Apple and Kobo and Nook and Google, and then might let you have it for free)
---
AUDIOBOOK OFFER
There will be 50 redemption codes available for each of these titles for anyone who enjoys listening to audiobooks.
Click the links below to request the one you're interested in via email.
---
I would like to request that, if you enjoy the free eBook or Audiobooks to please consider leaving an honest review on the retail or library website of your choice, or on Goodreads.
THANK YOU!
---
A few short eerie content videos to enjoy!
The Shadow Men (SHORT FICTION: Perfect for the campfire)
Century Manor Asylum for the Insane (Hamilton, ON)
The Mysterious Portal to Lemuria at Bob's Beach Books (Lincoln City, OR)
Alberta Hospital of the Insane: A Woman Possessed (Ponoka, AB)
"That's How Houdini Died, you Know!" (Houdini's Death as it related to Montreal, QB)
Pub Ghosts at The Winking Judge (Hamilton, ON)