This landing page contains resources, info & other helpful downloads and links for members of the WMG Business Master Class 2018.

This landing page was created by Mark Leslie Lefebvre – any incorrect info or goof-ups are completely due to my own error/mistakes and are not the fault of WMG or any of the awesome instructors or folks who allowed me to share the info here.
SPECIAL OFFER FROM Kris & Dean for Next Year's Business Master Class (Friday Oct 25th through Wed Oct 30th, 2019). Due to the much higher costs of the conference space/etc in Vegas, the rates will be going up to at least $750 USD (likely higher) for next year. However, for this year's attendees only, if you book before Nov 1, 2018, you can get in for $650 USD.
Email Dean at dean@deanwesleysmith.com and let him know so you can lock in this rate or fill out this form.
FREE eBook from Mark
(Available on Kindle, Kobo, Apple, Nook, etc thanks to Bookfunnel's great "Tex" support)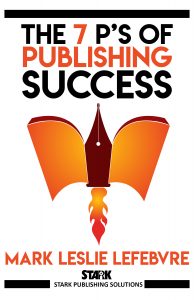 The 7 P's of Publishing Success is a look at the common traits and strategies that the most successful authors use. It uses examples from both traditional publishing and self-publishing to outline how Practice, Professionalism, Patience, Progression, Persistence, Partnership, Patronage (and even a bonus P: Promotion) can help guide you on your writing and publishing journey.
Click here to download The 7 P's of Publishing Success for free via Bookfunnel.
Please consider leaving an HONEST review on the eBook retailer of your choice. THANKS.
Also, you can sign up to receive a free 10 day email course on KOBO HACKS FOR OPTIMIZING SALES. The emails are less than 500 words and many contain images to provide an overview and introduction to Kobo in the first couple of emails, then a look at ways to optimize and sell more. (It's basically the "Reader's Digest" version of my new KILLING IT ON KOBO book) – see, you can enjoy a shorter version of the same insights for FREE…..save time and money…..

Having just spent six days at the WMG Business Master Class workshop, Mark reflects on the overwhelming and head-spinning influx of information, insight, wisdom, ideas, inspiriation, and perspective that he had just taken in. This episode is an attempt to recapture some of the advice and tips shared in one of the final sessions at the workshop on triaging all the overwhelming info.
Mark's PDF Basic Publishing Insights Presentation Slides
StarkPublishing_HighLevelBasicInsightsPublishingBusiness (PDF) – "Understanding the Business of Writing & Publishing" Slides
Adapted from a presentation Mark has done on the opportunities that exist for writers. A high level overview of the business of writing and publishing.
FICTION WRITERS IN FLIGHT
There's a zip line in downtown Vegas that a bunch of the attending writers couldn't resist trying out. Below is a video made by Dean Wesley Smith, who had a GoPro strapped to his head for the ride. Count how many times Dean says "Holy Shit!" during his flight down Fremont Street.

AUDIO RESOURCES
A WORD document template that you can use to send to podcast or radio hosts in advance of an interview. It contains all of the information that a host is likely to need to make for a much easier interview process. Feel free to grab this template and adjust it to suit your own personal needs.
LIBRARY RESOURCES (from Rachel Amplett)
A list of Library Distributors (Excel – will open in Google Drive):
An example of a one-page sell-sheet for Scared to Death (Word – will open in Google Drive). Used for quickly conveying information to librarians for deciding to purchase. This type of sheet is also useful for merchandisers/buyers at bookstores and is similar to the one really good sales reps present to buyers/booksellers for the top 10 to 20 titles they are presenting from catalogs of thousands of forthcoming releases.
GAMING INFO
FAIRS & OTHER NON-TRADITIONAL SELLING OPPORTUNITIES
Mark's "FREE" Promotion on KOBO
A detailed analytical look at the use of a "Free eBook" paid promo on Kobo. What worked? What didn't work? What were the goals for the promo? What were the results?
PDF file – Kobo FREE eBook Promotion Details & Analysis
Andrea Pearson's Marketing Presentation Slides
Bookfunnel Related Content
Author Branding
Social Media
Kevin & Rebecca's THE BIG EVENT
Donna Cooks – Cash Flow
Donna Cook – IP Bibliography Tracking & Production Resources
Fiction IP Valuation (Dean)