NON-FICTION (WRITING & PUBLISHING)

The Stark Publishing Solutions series of books draw upon more than a quarter century of work in the writing, publishing and bookselling world.
Also available in PRINT and AUDIO (Synthetic Audio)
What seven traits do the most successful authors have in common? Which strategic approaches can have the most positive effect on your author career? Where should you focus your energy and effort for maximum results? How do these components work together to help you forge a powerful path through publishing?
Also available in PRINT
Do you want to increase your overall sales and visibility on Kobo? Are you having trouble gaining any traction or growing your reader base outside the Kindle store? Wouldn't it be empowering not to be dependent upon a single retailer for the majority of your eBook income?
Any author can get their book listed in an online catalog. But what if you want more? What if you want to rise above the digital masses and be relevant to booksellers and librarians? In today's digital age of publishing, it's easy to get your book listed on major retail and library sites around the world. But what about taking it to the next level and engaging efficiently and effectively with booksellers and librarians? That's where you, and this book, come in.
Book 4: Indie Publishing Insider Secrets (Forthcoming)
FORTHCOMING: Insight, Perspective, and Wisdom on Writing, Publishing, and Bookselling from a 25 Year Book Industry Pro. A personal and intimate look at a life spent in bookselling, writing and publishing, with reflections on the basics of creating and establishing a writing life, the evolution of storytelling and publishing, the write attitude, planning for success, professionalism and author branding, the value of metadata, relationships, working with other writers, editors, agents, booksellers, librarians and eRetailers, and more.
NON-FICTION BOOKS (PARANORMAL)
NOVELS
Click here for Details about the Novels
SHORT STORY COLLECTIONS
Click here for Details about the Short Story Collections
EDITOR (FICTION)

AUDIOBOOKS

Buy Direct – (US and Canada Only) – And listen on Authors Direct free app
Mark's Audiobooks at Kobo Audiobooks
OTHER BOOKS THAT INCLUDE MARK'S FICTION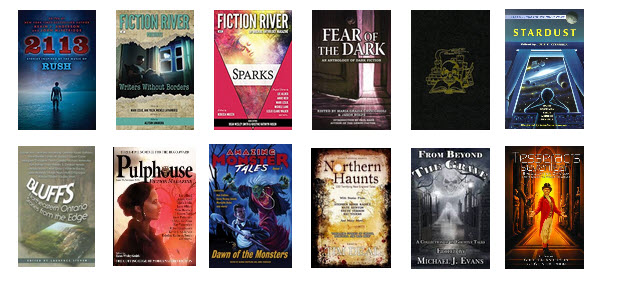 Short stories, magazine articles, etc.
ISFDB (Internet Speculative Fiction Database) Listing of Mark's published works
Click here to search for Mark Leslie's books and support Indie bookstores (US via Indiebound.org – Ebooks & Print)
Click here to see Mark Leslie's books at Amazon (Print, eBooks and Audiobooks)
Click here to see Mark Leslie's books at Kobo (eBooks and Audiobooks)
Click below to find Mark's digital books (eBooks and audiobooks) via Libraries powered by Rakuten OverDrive
If you can't find one of Mark's books in your local library, go ahead and ask them. Most libraries can order print, eBook or audiobooks that are available.